Square Enix have partnered the clever chaps behind Champ Man 2016 with leading bookmaker Paddy Power to predict the outcome of Euro 2016, using Champ Man's sophisticated game engine.
Champ Man ran over 100,000 simulations of this summer's tournament, which starts tonight as hosts France take on Romania in Paris, on its hugely-successful mobile football management app.
English fans do not need 100,000 simulations to inform them that we have a 59% chance of being knocked out in the last 16 or quarter-finals, but some other findings were very interesting!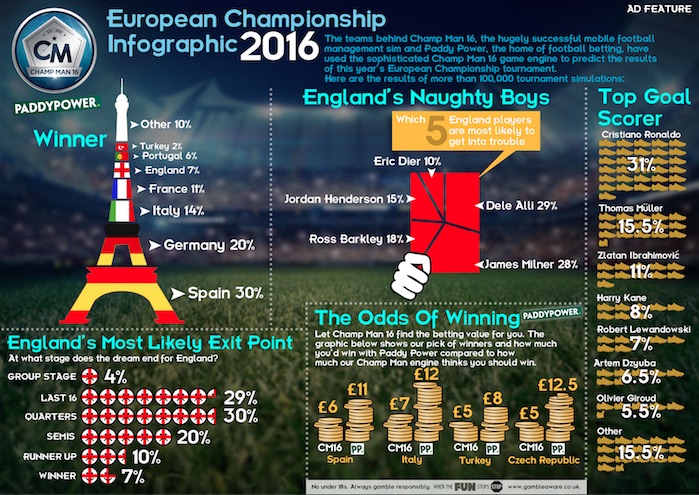 The Champ Man boffins give us a 7% chance of winning the tournament. They predict that back-to-back champions Spain are 30% likely to win, with Germany 20% likely and unfancied Italy 14% likely.
Portugal are only given a 6% chance, but according to the simulators, Cristiano Ronaldo is 31% likely to win the Golden Boot, ahead of Thomas Muller (15.5%), Zlatan Ibrahimovic (11%) and Harry Kane (8%).
Kane is predicted to be England's scoring hero, but his Tottenham Hotspur teammate Dele Alli could be the villain. The temperamental midfielder is apparently the most likely England player to get sent off.
Only time will tell how accurate these predictions will be. All I will add is that I led the Three Lions to Euro 2016 glory on my own Champ Man game. And by glory, I mean a respectable quarter-final exit.
CaughtOffside have done our own predictions for Euro 2016. Check them out via the links below!
SEE MORE:
Euro 2016 predictions part 1: Who COS writers expect to be champions, including wild Turkey shout
Euro 2016 predictions part 5: How far England will go – mixed expectations among COS writers
Euro 2016 predictions part 6: England's star man – shouts for five Tottenham stars & Arsenal rival