BIG WES HAS JUST SCORED A BEAUTY! THAT OUGHT TO SILENCE THE BULLIES!
Wes Hoolahan vs Zlatan Ibrahimovic was getting people very excited way before kick-off in Paris tonight.
Let's be honest, Wes Hoolahan (king of the crayons) vs Zlatan Ibrahimovic has to be the highlight of #EURO2016 #ncfc pic.twitter.com/LdneHaStdU

— Matthew Rushbrooke (@rushbrooke90) June 13, 2016
And once Ireland vs Sweden got underway, the much-anticipated head-to-head did not disappoint.
Norwich midfielder Wes Hoolahan is 5? 6?.
Imminent Man United striker signing Zlatan Ibrahimovic is 6? 5?.
And apparently this is really funny.
Who knew?
SEE ALSO:
Watch another brilliant Eric Dier free-kick for England
Five faces that prove new Reading boss Jaap Stam is the scariest manager in football
Joachim Low caught on camera touching and smelling his own genitals while on Euro 2016 duty with Germany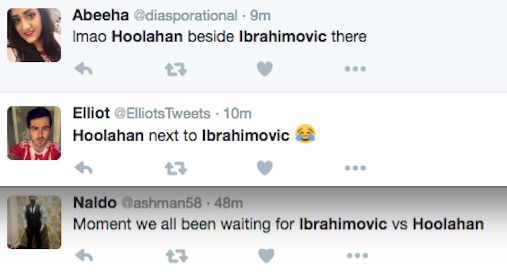 Apparently Wes Hoolahan vs Zlatan Ibrahimovic is totally hilarious. #IREvSWE #SWE #IRL pic.twitter.com/DGWrGZmTZp

— Andy Morris (@AndyMorrisBIC) June 13, 2016