One would think that Cristiano Ronaldo would want a barb-wire fence around him after one of the most un-Ronaldo-like performances of career.
After a penalty kick miss cost Portugal a win against Austria in Euro 2016, Cristiano Ronaldo was spotted on taking a selfie with an obvious pitch invader – who was promptly hauled off by authorities after the Real Madrid superstar was done.
Pure class right here by the Portugal captain.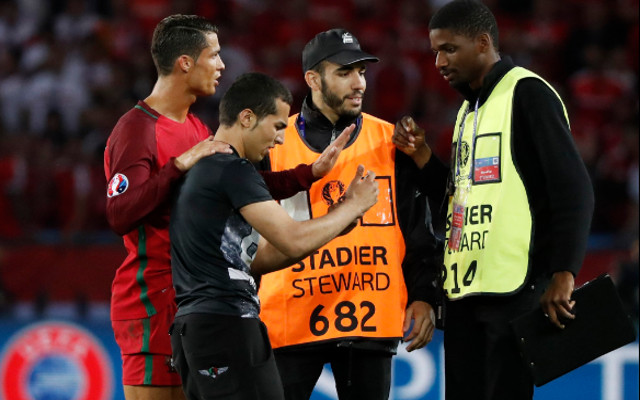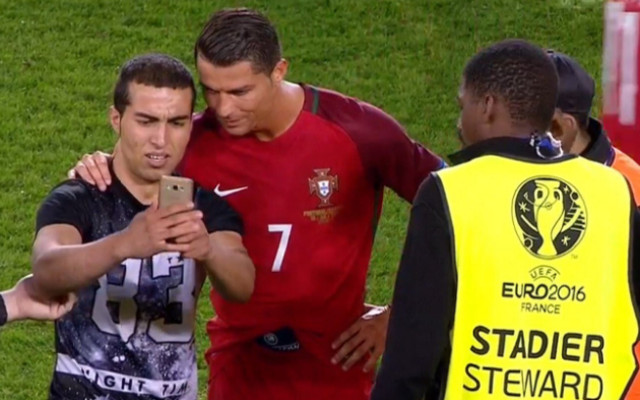 Ronaldo missed multiple opportunities to score in the ultimately scoreless game, including a pk that bounced off the left goalpost.
Ironically, Ronaldo's arch-rival Lionel Messi did something similar following a Copa America Centenario match. A pitch invader was tackled a few feet from Messi and countryman Sergio Aguero, but the pair decided to hug the fan before authorities dragged him away.
Follow @jtmlovessports on Twitter
SEE MORE:
(Video) Jan Vertonghen angers Ireland fans as Spurs star cheats with superb style at Euro 2016
Liverpool and Arsenal clean up as Vogue name most stylish footballers at Euro 2016
Chelsea superstar shreds Euro boss after poor first match