Liverpool legend Jamie Carragher got the chance to meet The Queen this week. Reds fans may argue that is more of an honour for Her Majesty than Carra.
The former England defender turned Sky Sports pundit uploaded an Instagram picture of his Royal encounter at an event at AlderHey Children's Hospital.
And he took the opportunity to have some Royally good banter at the expense of one-time Monday Night Football colleague and Manchester United rival Gary Neville.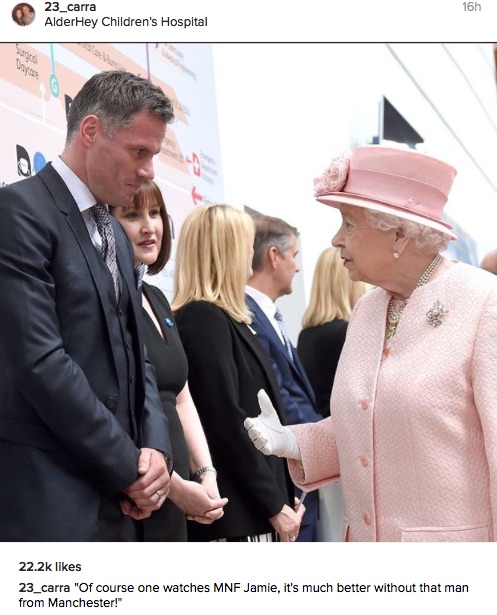 Carragher and Neville struck up a brilliantly entertaining partnership fronting Sky's football coverage before the latter left to manage Valencia last December.
The Daily Mail reports that Neville will return to his punditry role next season, which would be a welcome sight for everyone, including The Queen I'm sure!
SEE MORE:
7 relegated players to be given Premier League reprieves; including Arsenal & Liverpool targets
Picture: Snubbed Liverpool defender shows there is no sour grapes with classy Instagram post
Wayne Rooney studied Manchester United and Liverpool legends for midfield role