The international game has already lost Lionel Messi this week. Could Andres Iniesta be about to follow?
Messi quit Argentina duty after Monday morning's Copa America final defeat to Chile, and Iniesta suffered similar disappointment yesterday when Spain were knocked out of Euro 2016 by Italy.
And the iconic midfielder has now hinted that he may follow his Barcelona teammate into international retirement with this Instagram post in which he seems to say goodbye to the Spain team.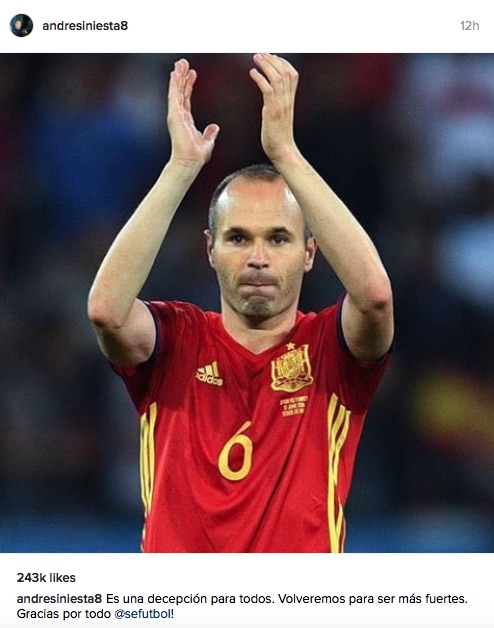 The caption translates to: "It is a disappointment for everyone. Back to become stronger. Thanks for everything @sefootball," – the official Instagram for Spain's national football team.
The Sun also quotes Iniesta, who has won two European championships and a World Cup with Spain, as saying: "I'm lost for words. There's nothing else to it. It's time to think about the future."
His performances in France certainly showed that Iniesta can still cut it with the best players in Europe, but it might be time for the 32-year-old to focus on the twilight of his glorious Barcelona career.
SEE MORE:
Video: Inconsolable Lionel Messi in tears as Arsenal star sends him into international retirement
Euro 2016 Team of the Tournament: Liverpool star and Arsenal duo join outstanding free agent among top performers so far
(Video) Antonio Conte celebrations as Italy beat Spain top Jose Mourinho's famous 2004 festivities