Wales's dream Euro 2016 run came to an end last night as Portugal advanced to the final with a 2-0 win over Chris Coleman's underdogs in Lyon.
SEE MORE: Video: Cristiano Ronaldo and Nani both net for 2-0 win over Wales in Euro 2016
Cristiano Ronaldo scored one and assisted the other goal for Nani as the Red Dragons fell just short of reaching Sunday's showpiece against either France or Germany.
But their two talismanic figures were quick to raise the spirits of a nation by celebrating what Wales achieved, rather than reflect on what could have been.
Arsenal midfielder Aaron Ramsey, who missed the semi-final through suspension, reminded the Welsh supporters why they have reason to be "immensely proud".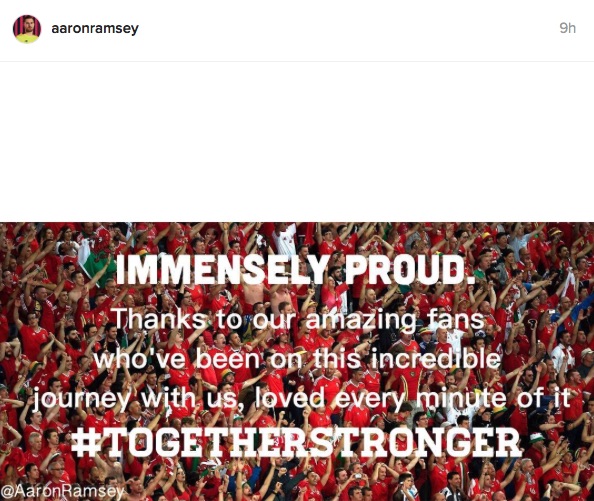 And Real Madrid superstar Gareth Bale insisted that the Red Dragons should not have any regrets about last night, while uniting with Ramsey with the "TogetherStronger" mantra.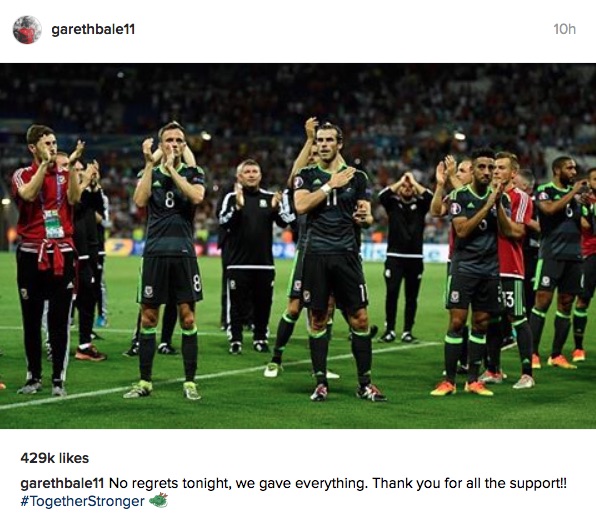 SEE ALSO:
Picture: Real Madrid hero Cristiano Ronaldo dismisses long-standing criticism on Instagram
Wales star reveals he has 'offers from around world' after Euro 2016 heroics
Video: Wales 3-1 Belgium – incredible goals & drama as Chris Coleman's side reach Euro 2016 semis