A message from a great of Manchester United's past to a great of Manchester United's future…
David Beckham seems to have picked out Red Devils starlet Marcus Rashford for special attention, sending the 18-year-old striker a signed shirt with an encouraging personalised message.
Rashford, who emerged as arguably the next big thing at Old Trafford last season, uploaded this picture to his Instagram account this afternoon with the caption: "Nice to be appreciated by one of the best."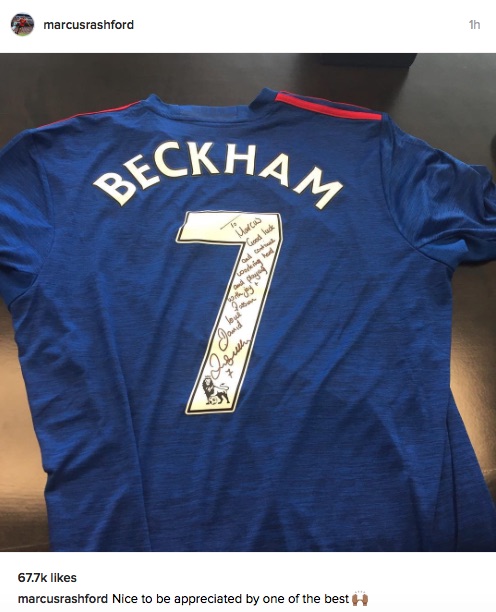 We've tried our best to decipher Beckham's handwriting, and believe the message reads: "To Marcus, good luck and continue working hard and playing with joy + passion. Love David, 7."
Either Beckham is having a clear-out and he has a lot of old kits he wants rid of, or he is a selfless and caring person who is genuinely invested in the future of such a bright local talent.
Hopefully these words of encouragement from a true legend of the English game will help the teenager kick on from his breakthrough season as he scored eight goals in 18 matches for United.
SEE MORE:
10 biggest Euro 2016 disappointments: Man United & Spurs flops join four from German champions
Paul Pogba transfer latest: Manchester United hope to save money with part-exchange deal
(Video) Sir Alex Ferguson celebrates Euro 2016 success with Cristiano Ronaldo