We all know Mesut Ozil is a creative genius. We might not have known he was a Katy Perry fan!
The Arsenal playmaker paraphrased a famous lyric from the American popstar in his throwback Instagram upload yesterday, in which he remembered winning the World Cup two years to the day.
Ozil, who played every game of Germany's triumph in Brazil, captions the picture: "Two years ago – I kissed the cup and I liked it. A magnificent night in a wonderful country! #Throwback #Brazil #Rio."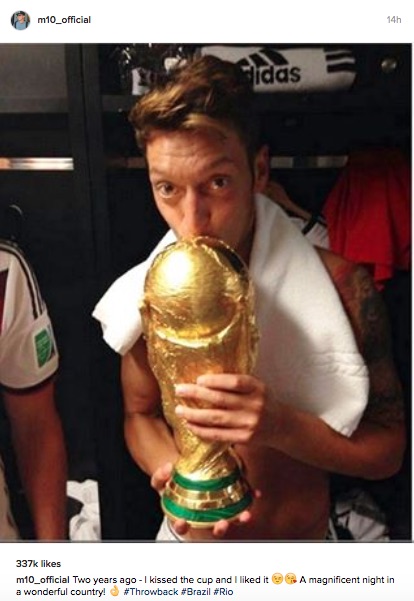 Germany were more Hot and Cold at this summer's Euros, hampering Ozil's Teenage Dream of winning the tournament. Hopefully for the Gunners star, it won't forever be The One That Got Away.
Okay, I'm out. And a couple of those were tenuous at best.
SEE MORE:
Arsenal injury crisis: Three key forwards all doubts for start of season
Arsenal transfer news: Gunners eye £55m move for talented Euro 2016 star
Arsenal star voted as Germany's Euro 2016 player of the tournament