Having watched Antonio Conte's Italy side play in a well-drilled 3-5-2 system at Euro 2016, many people were expecting him to use the same formation at Chelsea this season.
But, according to Blues midfielder Oscar, the new Chelsea boss has got everyone working towards the implementation of a retro 4-2-4 formation.
"The idea is to play 4-2-4," Oscar told the Daily Mail. "We tried this every day in training – we're getting better."
Arguably, Brazil are the only team who every really mastered 4-2-4, so the fact that Chelsea currently have four Brazilians in their squad could help them.
Diego Costa – who is Brazilian, but chose to represent Spain in 2014 – will almost certainly start in Conte's new system, instead of or next to summer signing Michy Batshuayi, while Willian's place on the right flank seems pretty assured too.
Oscar could feature in the centre of midfield, but he would have to play with a lot of maturity and fight the urge to drift forward too often, as that could leave his side very vulnerable through the middle.
As a result, Oscar may either find himself playing as a forward or sat on the bench.
Chelsea's fourth and final Brazilian, Kenedy, could be used in any of the four forwards positions, although he is unlikely to make the first XI on a regular basis.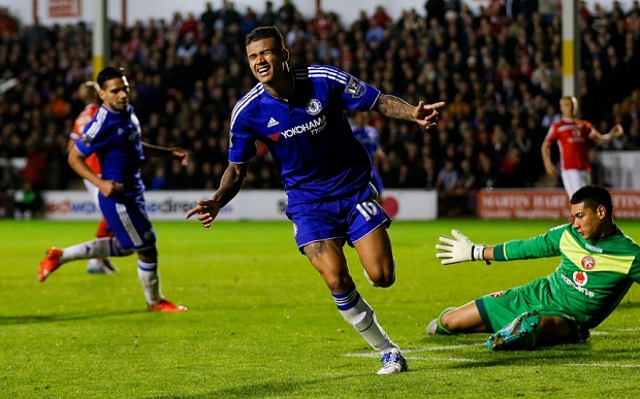 SEE ALSO:
Antonio Conte reveals demand for five more Chelsea summer signings
(Photo) Chelsea teenager shares incredible view from his New York hotel room
Hottest Premier League WAGs 2016: 3 Man U missuses, new Liverpool signing's GF & Chelsea & Arsenal wives feature
New boy N'Golo Kante seems like a shoo-in to make a midfield spot his own, leaving the likes of Cesc Fabregas, Nemanja Matic and Ruben Loftus-Cheek to battle for a place alongside him.
Matic seems like the most solid option. Fabregas can also hold his own, but there is no doubt the Serbian is more defence-minded.
Fabregas is primarily a creative player – so much so that he might be best suited as a no.10 just off Costa, leaving Batshuayi as a very expensive back-up. Don't forget, Fabregas has played as a striker for both Spain and Barcelona in the past.
The back four could be a very interesting area, with many selection dilemmas.
John Terry should start and captain the side, probably next to Kurt Zouma once the young Frenchman is fully fit again.
But who should play at full-back? Branislav Ivanovic is vastly experienced and can do a reliable job at right-back, but he is perhaps not mobile enough to excel in a 4-2-4.
Cesar Azpilicueta seems like the obvious choice on the right side of defence, while Baba Rahman or even Juan Cuadrado – if Conte is feeling adventurous enough – are attacking options on the left.
It makes sense for Chelsea's left-back to be very forward-thinking because Eden Hazard will likely cut inside a lot from his left-wing position, creating ample space for an overlapping defender.
Here's how Conte's 4-2-4 Chelsea formation could look this season.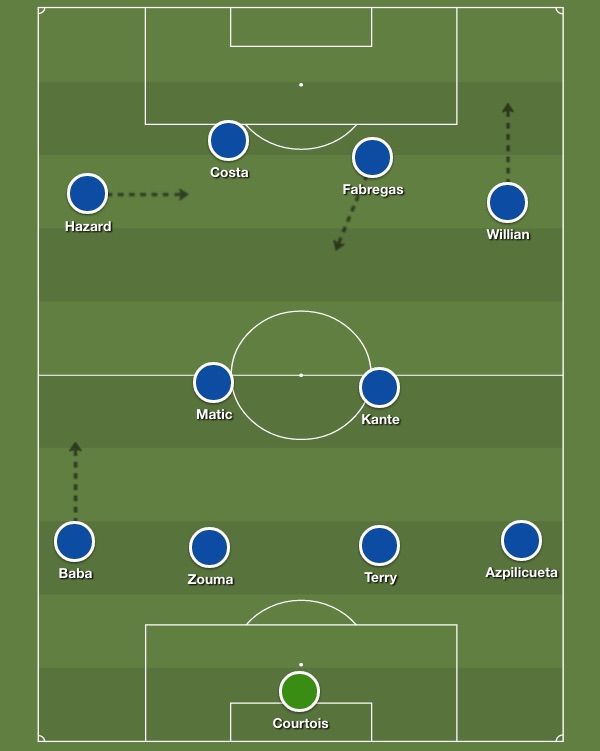 There are not enough arrows in the world to illustrate how much ground Kante will cover!