Paul Pogba has spent the last few days of his post-Euro 2016 holiday in Las Vegas, and isn't giving too much away on his possible move to Manchester United.
The 23-year-old has been given an extended break after playing his part in guiding France to the final of the European Championship last month.
However, it hasn't stopped speculation over his club future from raging on, with Sky Sports reporting that the French international is preparing to travel to England once his holidays come to an end.
The report reveals that Pogba was at the Wet Republic pool party at the MGM Grand on Saturday, with claims that his agent, Mino Raiola, was continuing his work on the smaller details in the contract that will seal a £100m transfer to United.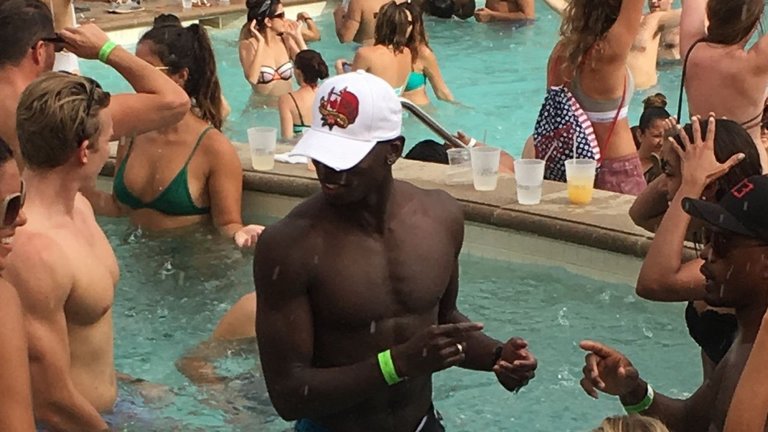 Reporter Andy Burton was at the party with the Frenchman and when asked whether the deal was close to being concluded, Pogba simply replied: "We'll see".
Nevertheless, Sky Sports add that their sources have told them that the deal is almost agreed in principle between the two clubs, with personal terms already being sorted.
However, the payment of Raiola's fee is reportedly still a stumbling block, along with other 'finer details', and so negotiations are set to continue this week.
With the new Premier League season less than two weeks away, the on-going wait will be frustrating for United and their supporters, as ultimately the transfer saga needs to be concluded sooner rather than later.
Jose Mourinho will undoubtedly want the player at his disposal as soon as possible to gauge his fitness and get him in shape for the campaign, and so any further delays will set them all back if a move to United does indeed happen this month.
It now remains to be seen where Pogba flies to next, as without a deal in place, Juventus may well expect him back in Turin. However, there is also the possibility that he flies straight to Manchester and awaits confirmation of a deal to take him back to the club he left on a free transfer in 2012.
With Eric Bailly, Henrikh Mkhitaryan and Zlatan Ibrahimovic already signed up, Mourinho will be eager to add another pivotal piece to the puzzle, albeit at a staggering cost, as he aims to get United back to the top of the Premier League.