BY JORDAN-LUKE McDONALD
Sane signed. Jesus joining. Moreno moving in. Sterling still not for sale.
When Manchester City announced the signings of Leroy Sane and Gabriel Jesus last week, many rival supporters took it upon themselves to sell Raheem Sterling to a non-league football club, hit him over the head with their Twitter-trolling keyboards, book his funeral, set his coffin on fire, send it out on a ship and dump it in the ocean.
This all comes after the onslaught of the national press and the social media barrage which he endured in the aftermath of a rather poor showing at the Euros this summer. Criticism of his personal life followed on from criticism of his on-field showings.
But considering the collective calamity of England and Roy Hodgson, as well as several other young stars such as Dele Alli and Harry Kane underperforming, it seemed a tad unfair to single out Sterling.
Follow Jordan-Luke on Twitter @TheSilvaLining
There seems to be some kind of agenda against a 21-year-old who, despite popular opinion, is still one of England's brightest young talents.
By the time that Sterling departed Liverpool, the then-19-year old had already been awarded the Golden Boy award. His final campaign at Anfield was also a particularly impressive one which saw him score 11 goals and assist 10 more. He had even netted against City themselves on a couple of occasions throughout his time with the Reds.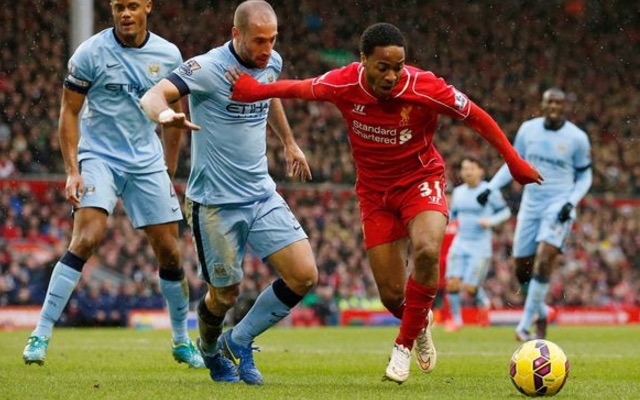 Then after a drawn out series of negotiations, City eventually shelled out £44m plus £5m in add-ons in order to acquire Sterling, according to BBC Sport, as the talented forward swapped red for blue, Liverpool for Manchester.
Skip to the present and with City now spending circa £70m on four additional attacking youngsters, rival supporters have voiced their ludicrous opinions that Sterling will now be sold, or more simply, sat on the bench. Bizarre.
The signings of Sane, Marlos Moreno, Jesus and Oleksandr Zinchenko are independent of Sterling's future at the club; they are not synonymous with his sale. If you look at City's potential attacking options now under Guardiola, there is a striking theme.
Sergio Aguero, Kelechi Iheanacho, Kevin De Bruyne, David Silva, Leroy Sane, Nolito, Zinchenko and, when they return from loan, Patrick Roberts, Gabriel Jesus and Moreno are all extremely versatile forwards. They are all capable of playing in practically every attacking position and have the capacity to adapt specific aspects of their game as necessary.
Those who are seemingly unable to do so – the likes of Samir Nasri and Wilfried Bony – are, funnily enough, the players tipped with departures from the Etihad. That is not a coincidence.
Luckily enough then, Sterling fits into the former of the two categories.
Football Manager fantasists reckon an ultra-versatile Sterling can even do a job at right-back!

Across town, Jose Mourinho is keen to recruit 'specialists' in particular positions as opposed to flexible players. This does have its advantages; if an individual dedicates themselves solely in one position, they are likely to have a full understanding of the needs of said position.
But Guardiola is quite aware that just because a player has an understanding of a variety of positions, it does not mean that their knowledge will be limited or in some way divided between each one.
The Spaniard sees the necessity for a multipurpose squad capable of performing a variety of roles. Sterling will be no exception to the rule; instead, he will be a real asset to Pep.
An intentional by-product of this focus on versatility is that it not only enables a coach to effectively cover for injured players, but it also enables a greater sense of fluidity within fixtures. It provides players with the ability to interchange, confusing opponents by throwing them off balance and catching them off guard.
Enabling attacking options to roam gives them the freedom to damage the opposition defence and it is one aspect of Guardiola's game which cannot go unnoticed.
During his time managing his beloved Barcelona, Guardiola devoted training sessions to attacking movement. He marked out a distinct defensive area which defenders could not exit, whilst the rest of the pitch was free-roaming, stimulating creativity and initiative amongst attackers and discipline amongst his defenders.
Such inventiveness was something that Sterling did not get the benefit of last season under Manuel Pellegrini. At times, it almost felt as if he had been physically shackled to the left-hand touchline and very rarely was he given the freedom to roam inside, illustrating his ingenuity where he is arguably most effective.
At Liverpool, he was also utilised on the right and in the hole, not just predominantly on the left-hand side. As a right-footed player who was often criticised for his poor finishing last season, it seemed rather peculiar that he was not given more opportunity to feature on the right-hand side of the pitch.
In all competitions last season, he was given just one full game and a meagre total of a mere 145 minutes as a dedicated right winger. For a player lacking confidence in front of goal, Pellegrini did little to help.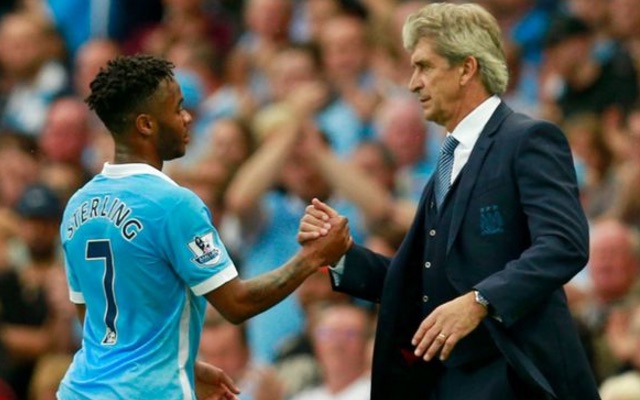 But having worked for a short period of time under Guardiola, City fans began to see glimpses of what Sterling was signed for in the first place against Arsenal in a friendly at the weekend. A beautifully whipped in ball from the right put the ball on a plate for Sergio Aguero to tap in the opening goal of the game.
It was not from Jesus Navas. It was not from David Silva or Kevin De Bruyne. Not even Bacary Sagna. It was Raheem Sterling.
Guardiola said after the game that he 'was curious to see him on the right side', as well as revealing that 'he played on the right in the last game against St Johnstone' in the behind-closed-doors friendly in Manchester.
Pep Guardiola is a manager renowned for his ability to guide and mould young players in order to unlock their potential. He is also a manager renowned for inspiring and injecting confidence into all of his players in order to get the best out of them.
Both of these qualities of Guardiola will be paramount to the future progression of Sterling – a player, it must be noted, who remains in his most formative years.
And it seems to be working, at least for now, as Guardiola was impressed with Sterling's performances in both matches. '[Sterling] did it really, really well', he stated.
SEE ALSO:
Chelsea FC wages: Eden Hazard on 4x more than John Terry
Hottest Premier League WAGs 2016: Man Utd, Liverpool, Chelsea & Arsenal stunners in top 10
Most expensive defenders ever: £47.5m John Stones signing puts him 2nd in top 5 full of Man City and PSG spending