People do not create the ratings on WhoScored.com. The site uses a statistics-based algorithm to rate each player out of 10 on game-by-game basis.
Basically, it's a football site run by robots and – as you should know – robots are not capable of being biased.
WhoScored's clever machines named Paul Pogba as the man of the match as the Frenchman made his first Premier League start in Manchester United's 2-0 win over Southampton on Friday night.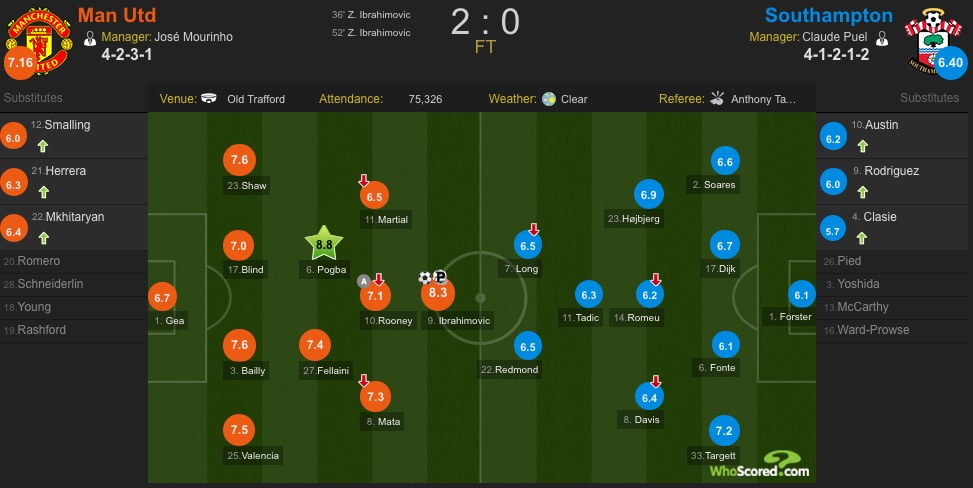 Pogba, who started the match horribly with two dreadful early touches, scored an 8.76/10, beating the rating of two-goal hero Zlatan Ibrahimovic (8.30).
The 23-year-old did look very comfortable following his early shakiness, but to give him the MOTM award ahead of Zlatan seems a bit strange.
But who am I to argue with football robotics!?
Pogba touched the ball 103 times during the full 90 minutes. Only Southampton midfielder Pierre-Emile Hojbjerg, who was given a 6.94, had more touches.
Other than Pogba and Zlatan, Luke Shaw (7.56), Eric Bailly (7.55) and Antonio Valencia (7.48) were United's star men in the virtual eyes of WhoScored.