Wayne Rooney is a father of three. He is the captain of Manchester United and England. He is also his country's all-time record goalscorer.
But above all else, Rooney is just a bloke. And, as such, the 30-year-old inevitably indulges himself by watching a bit of porn every now and then.
Poor Wayne has been mocked for doing what comes naturally though, after eagle-eyed porn-watchers – w*nkers, literally – noticed that he had clicked the 'like' button on an 'adult' video using his official Twitter account.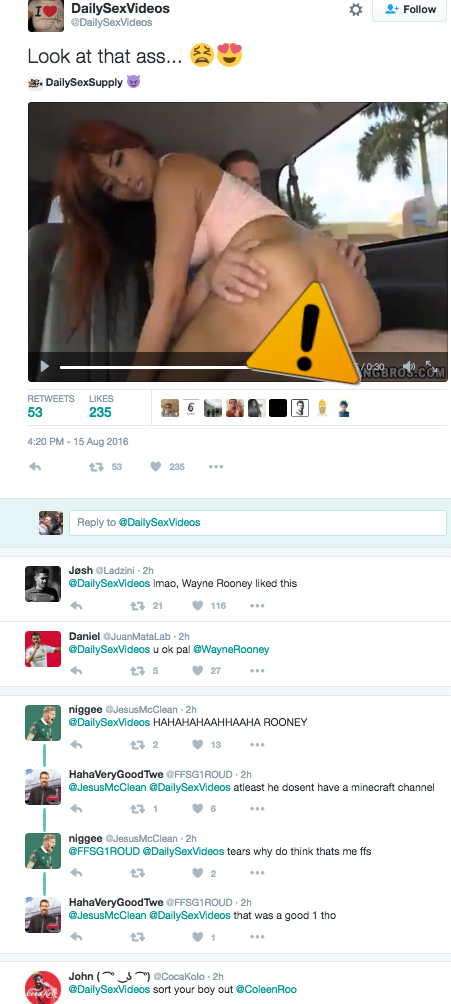 As you can see above, Rooney was not the only person to like this video of a red-headed lady riding in a car.
However, he has been singled out. Bless him.
In fairness, it is a bit silly to click like. Then again, perhaps Rooney felt compelled to show his appreciation to @DailySexVideos? After all, it would be pretty rude to enjoy their service without giving anything back, wouldn't it?
Rooney has been a gent here and is being laughed at as a result. The world is a horrible place!
The below screenshot, which appears to show Rooney's like column (is that a pun? You decide!), went viral this afternoon.
We have censored it slightly by posting a picture of a huge American dick to cover the girl's bum hole, but that is all.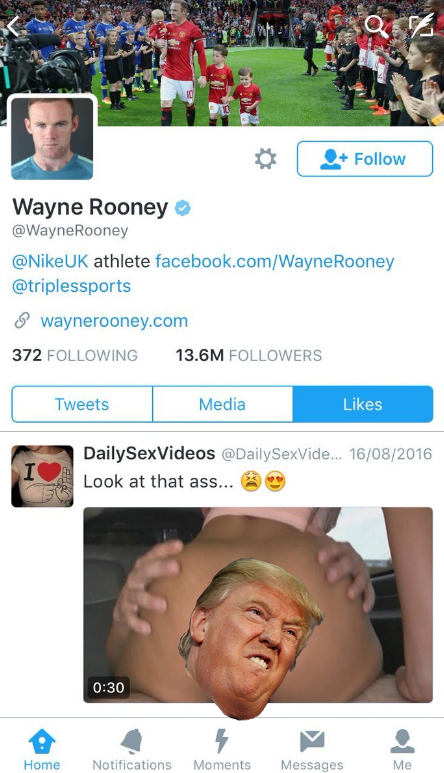 However, some have claimed it's a fake!
What do you think?
SEE ALSO:
Hottest Premier League WAGs 2016
Gokhan Tore gun row trio could soon all play for West Ham, Arsenal and Spurs
Instagram babes use new app to hook-up with Prem stars, 'half of Arsenal' are on it with CRINGE photos