Manchester United pair David De Gea and Zlatan Ibrahimovic have come in strong on FIFA 17, with both being awarded a rating of 90 on the game.
Ibrahimovic has made an immediate impact at Old Trafford with three goals in as many Premier League games, while De Gea continues to establish himself as one of the best shot-stoppers in Europe.
In that sense, there is no real argument over those two being top of the pile as they have shown their quality and consistency for a number of years now.
The top five is completed by Arsenal playmaker Mesut Ozil, Chelsea goalkeeper Thibaut Courtois and Manchester City striker Sergio Aguero.
Again, no real arguments as they are considered amongst the top players in the league and deserve their spot in the list.
However, despite playing an influential role in Leicester City's triumph last season in winning the Premier League title, neither Riyad Mahrez nor Jamie Vardy make the top 20.
The latest edition of the FIFA franchise will be released on September 29, and there may well be a few disappointed supporters with how their teams and top stars have been rated.
Nevertheless, it always makes for good debate with the most expensive footballer of all time only managing ninth spot with Paul Pogba yet to break the 90 mark.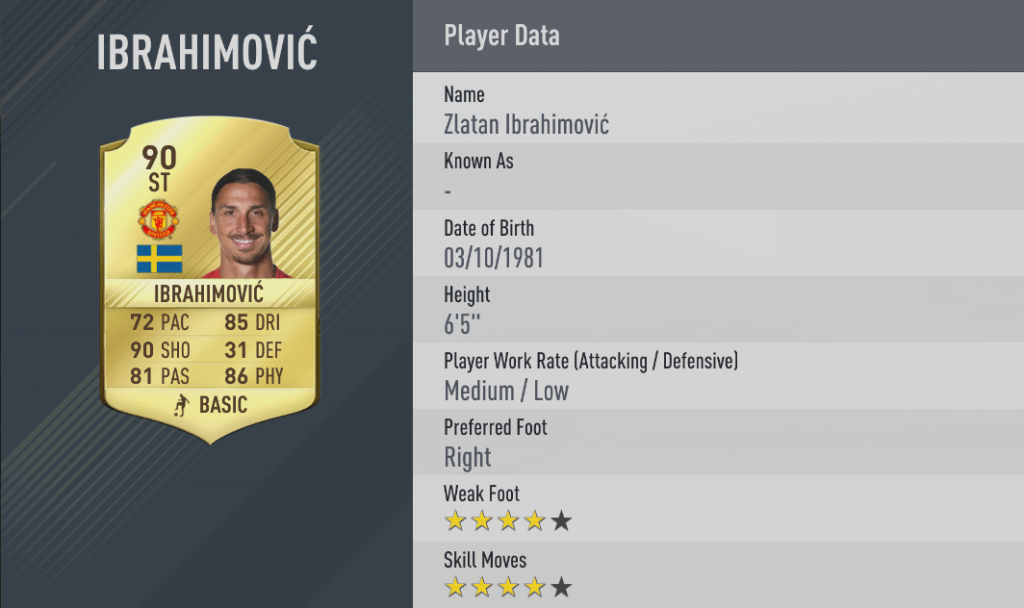 Full top 20 from FIFA 17:
Zlatan Ibrahimovic – 90
David De Gea – 90
Mesut Ozil – 89
Thibaut Courtois – 89
Sergio Aguero – 89
Petr Cech – 88
Eden Hazard – 88
Kevin De Bruyne – 88
Paul Pogba – 88
Hugo Lloris – 88
Alexis Sanchez – 87
David Silva – 87
Santi Cazorla – 86
Cesc Fabregas – 86
Vincent Kompany – 86
Dimitri Payet – 86
Laurent Koscielny – 85
Diego Costa – 85
Willian – 85
Philippe Coutinho – 85