Super agent Jon Smith – who helped bring the likes of Fredrik Ljungberg, Nwankwo Kanu and Andrey Arshavin to North London – has explained to CaughtOffside just how business is done at Arsene Wenger's Arsenal.
It seems that Wenger can sometimes be held back slightly by Arsenal's stats-based scouting system, although Smith admits that other clubs have similar policies.
Asked whether Arsenal paid too much for £35m signing Shkodran Mustafi this summer, Smith replied: "Had they moved a little bit faster, I think they probably could have got Mustafi a little cheaper.
"I wasn't involved in the deal, but I know the club system well. They've bought a company in Chicago call StatDNA, which owns a company in Cambodia, which runs stats on just about every player in the universe."
Smith suggests that before Arsenal sign anyone, the Gunners seek detailed data on them, using their "stats-based and arithmetical system".
Among the data collected will be things like 'how many chances does an attacking full-back create, minus the number of chances his ventures forward allow the opposition?'
"The process slows down Arsene's intuitive personal touch," Smith, who is a Gunners fan at heart, added. "Arsenal are run like an American corporate. And that's good because they ain't going bust and they're not going to do anything silly and it will all be fine.
"The supporters sometimes say 'we want more' and I get that, because the supporter is there giving his or her money and they want what they want and they are entitled to voice their opinion.
"But their club is very well run. If there is a criticism it's probably that they move a little more slowly because they're more corporate than some clubs.
"The corporate bit gives them financial stability. Perhaps that system negates some of the personal touch that Arsene certainly brings. When you introduce Arsene into a deal – and I've done it a few times – he makes the difference. Perhaps the system negates some of his plus-factor.
"Wenger will sort of say 'that's the guy I want' then the system will kick in and he appears at points during the system. Somehow, I think I want Arsene to get involved or more hands-on within the system sometimes.
"I do get frustrated sometimes and I do feel like picking up the telephone and saying 'Arsene, why don't you just tell them that you want him, that's it and it's job done because you're Arsene Wenger' but he has respect for everybody.
"He's very much his own man. He's very solid in his thought process, but he has enormous respect for everyone around him and I think possibly sometimes that respect stretches into a time-lapse that possibly he could sidestep if he thought it was the right thing to do.
"The system is pretty strong at Arsenal and I think he could override it and sometimes he does. In some of the deals I've been in, I've been able to say 'Arsene, I really need you involved here' and he does and he does it brilliantly, but he only gets involved at points in the system and I think that's possibly what the fans don't quite understand."
However, Smith did stress that Arsenal will never sign a player without Wenger signing the deal off.
Smith was talking to us ahead of the launch of his new book – The Deal: Inside the World of a Super-Agent – which was released earlier this week.
The Deal, which was co-written by the London Evening Standard's chief football correspondent James Olley, is available on Amazon right now.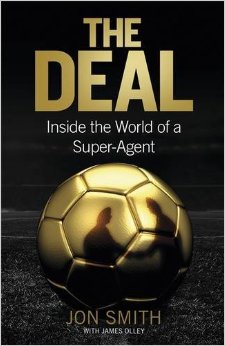 Smith – who says he was "probably the world's top agent for 20 to 30 years" and who at one point had clients including Diego Maradona and the entire England team – insists that his book is not an exposé.
He explains: "I've taken football and I've said 'this is what football is really all about'. I've not pointed fingers. I've not been particularly atrocious with anybody, but I have said 'football is a business and this is how the business is run'.
"And I go right inside all the football deals, the contracts players have, what triggers bonuses, when they happen, why the happen. And I guess, for anyone who wants to know what really goes on in football… this is it."
"I have not divulged secrets, but I've told people things that they wouldn't know."