Former Manchester United captain Gary Neville has criticised Liverpool's social media team for their 'embarrassing' response to a troll on Twitter.
However, in truth, it was Neville's response to the whole thing that was embarrassing.
The original Tweet was fired out on Friday night after Liverpool had beaten Chelsea 2-1 at Stamford Bridge.
.@UnitedStandMUFC Delete.

— Liverpool FC (@LFC) September 18, 2016
The United Stand were giving it large, which backfired on Sunday when the Red Devils were beaten 3-1 at Watford.
As you can see above, Liverpool's official Twitter account responded following United's third defeat in three games with a very simple message, just one word in fact.
In the immortal words of Richard Keys: "It was just banter."
It wasn't even that funny. But it got right up Neville's nose.
GNev weighed in with a complete overreaction.
First, the Sky Sports pundit suggested that the Tweet is likely to backfire on Liverpool by giving motivation to the Old Trafford dressing room.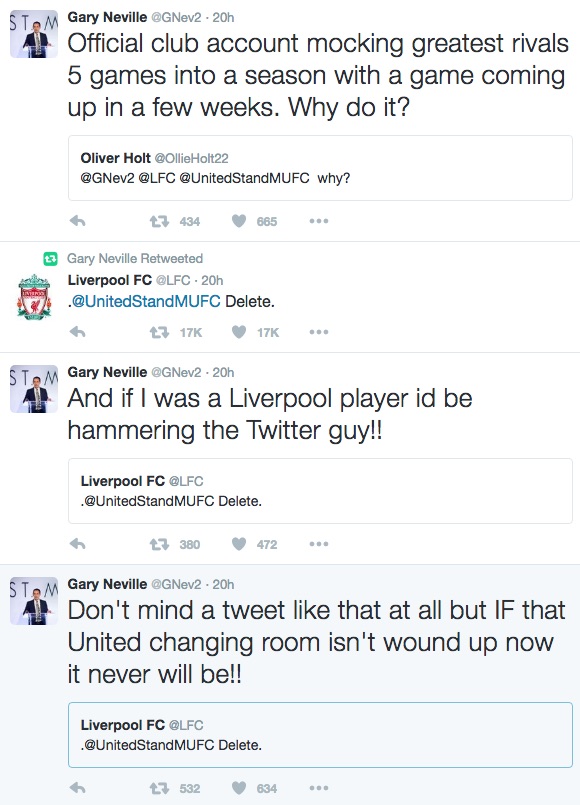 Really, Gaz?
Fellow Twitter user Peter Fearns then suggested that Neville would have found it funny had the roles been reversed.
Neville totally refuted the notion and that's when he dropped the big E-word.