Chelsea captain John Terry is seemingly feeling at a loose end during his injury break.
The Blues skipper, who has missed Chelsea's last two matches with a ligament strain, has been spotted spying on Kim Kardashian during his spell on the sidelines.
JT has kept himself entertained online by following Kim K on Instagram.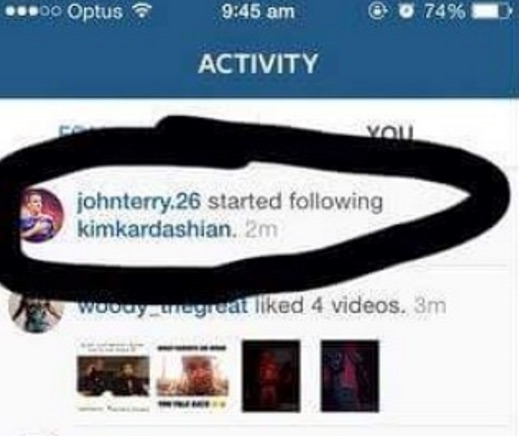 The screenshot above was captured by Bench Warmers.
Now he is a follower of the no.1 Kardashian, Terry has access to gems like this.
SEE MORE: Hottest Kim Kardashian Instagram posts as Chelsea's John Terry takes in water twerking, milk gulping & general bustiness
And this.
SEE ALSO:
Top 40 hottest female tennis players in the world
Alice Goodwin: 40 hot photos of STUNNING former Liverpool & Arsenal WAG who now works on BABESTATION
Katie Price describes hard sex with Liverpool legend whose f***ing technique sounds just like his famous set-pieces