David Luiz. Dodgy defender. Decent defensive midfield. Diamond geezer!
Seriously, when people tell you David Luiz is a nice guy, you better believe it.
For example, check out his latest Instagram post (below), which he uploaded on Wednesday afternoon. By all accounts, he's got a fully-grown stalker…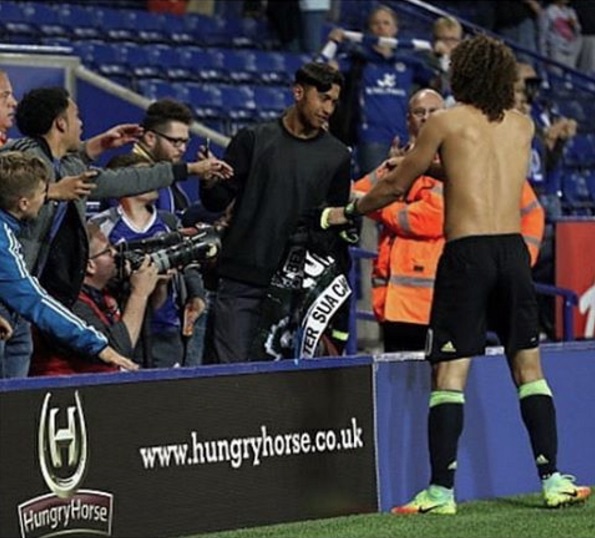 SEE MORE: (Video) Chelsea star goes out of his way to give young fan his shirt
Luiz accompanied the above photo with the following message:
'Great comeback lads! But I really want to say thank you, for this little boy in the pic! First time I saw him, he was running from the stadium until my hotel to say hello to me 5 years ago, and many others times until my home!
'He always was so respectful with me and many times he just want to say " congrats for the game and good night ", so last week after the game against Liverpool I was totally in shock, when I arrived at the hotel,I saw one guy running screaming my name and telling me to wait, and when I saw the ex little boy , now so big ,making the same action just to say to me, "we support u and the team, good night David"!
'I just said tks God,to give me this job and opportunities to met people like this little boy,now a big guy! So, in Leicester the beautiful action was not my action to give him the shirt , the beautiful action was from him , to be there supporting us like always ! True Blue! Tks bro! God bless u and ur family #thebeautifulgame.'
Although his super fan sounds very innocent, most people would surely be a little bit freaked out by having someone follow them to their hotel and home.
Not Luiz!
Legend.
SEE ALSO:
John Terry spies on Kim Kardashian during Chelsea star's injury break
Proof that Marcin Wasilewski did punch Diego Costa
(Video) Chanting Chelsea fans go mad for Cesc Fabregas after Spaniard finds top form to send Leicester packing in EFL Cup