West Ham United's head of media relations has contacted CaughtOffside to refute reports that recorded crowd noise was played over the sound system at the Olympic Stadium ahead of Sunday's 3-0 defeat to Southampton.
Numerous football fans made the claims on Twitter, leading to CaughtOffside writing an article on the alleged situation – titled 'West Ham embarrassed off the pitch again as Olympic Stadium staff use sound effects to drown out silence of 56,864 fans'.
However, Hammers media boss Max Fitzgerald made contact with us this afternoon to inform us that our original article was "completely made up".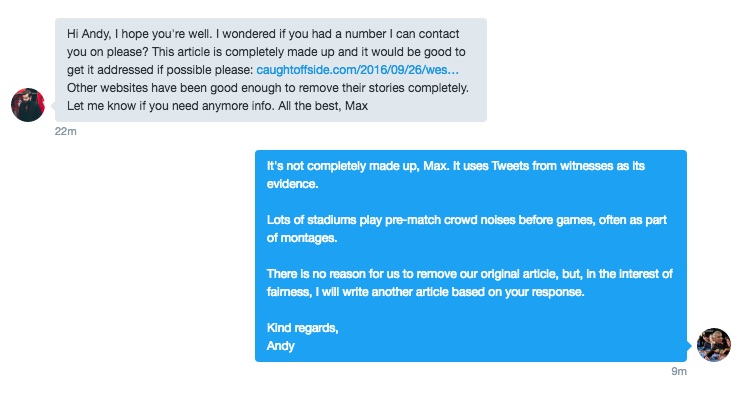 In the interest of fairness and balance, we have decided to publish Max's response above.
Furthermore, the Hammers fan in the CaughtOffside office (we think he's West Ham as he wears trackies to work) has told us that the crowd noises played before kickoff at the Olympic Stadium are usually accompanied by videos on the big screens.
Our Stratford source also added that, based on the games he had attended this season, the audio was "unpleasantly loud".
Media man Max joined West Ham from Bournemouth before the start of the season.
The Hammers are currently four points below his former club in the Premier League table, having lost five of their opening six top-flight matches this season.