Former Arsenal youngster Serge Gnabry appears to be settling nicely following his summer move to Werder Bremen.
The 21-year-old midfielder took to Instagram this week to show the world his girlfriend.
Her identity remains a mystery as Gnabry did not tag his BAE in the post, which was simply captioned with the word "She" and a single loveheart emoji.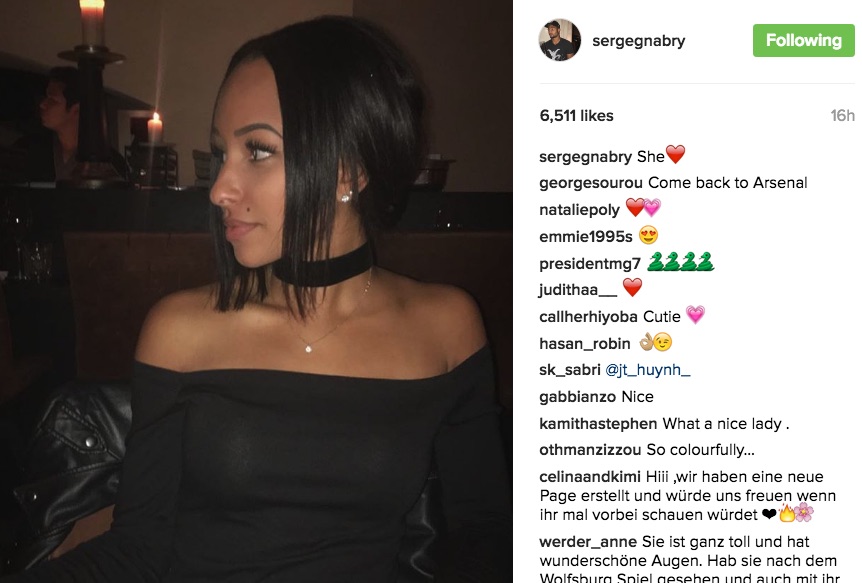 SEE ALSO:
22 Photos Of WAGs In Thongs
Top 10 Hottest Darts Walk-on Girls Ever
Alice Goodwin: 40 hot photos of STUNNING former Liverpool & Arsenal WAG who now works on BABESTATION
The post attracted a lot of comments, including many from Arsenal fans – like George Sourou – who urged him to return to the Gunners.
Another Arsenal relation to comment was Natalie Polycarpou, who is also a Gunners fan.
Natalie – who chipped in with two approving emojis – is not just any fan though.
She is the best pal of former Gunners midfielder Emmanuel Frimpong.
SEE MORE: 20 Hot Photos Of Natalie Polycarpou – Babe Who Friendzoned Arsenal Flop Emmanuel Frimpong & Two Current Premier League Stars
DENCH!