Below are our Liverpool v Man Utd predicted XIs ahead of Monday night's big game in the Premier League.
However, this article is not really about team news. It is about the wage gap between two of English football's fiercest rivals.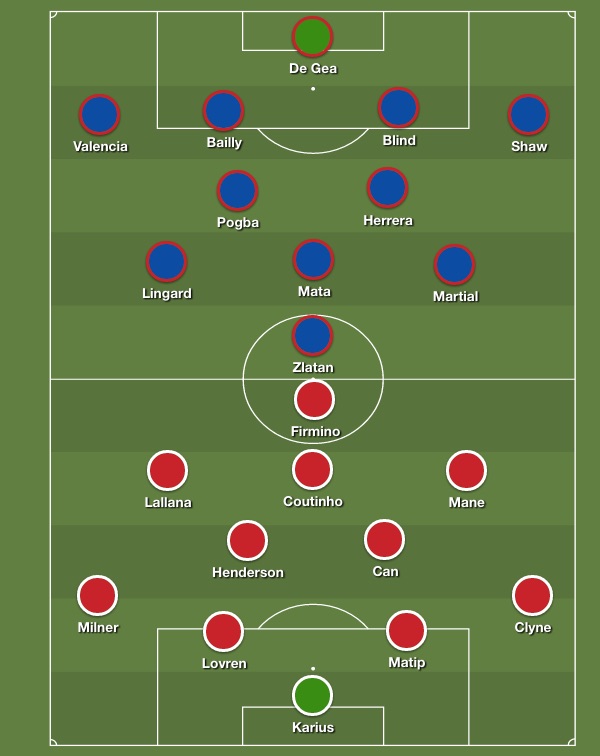 SEE ALSO:
Prem ref received hand job while moonlighting as taxi driver
Luke Shaw kisses Man United team-mate's fiancee in carpark
"We are going to beat Manchester United" – Liverpool star makes extremely confident statement

Using figures provided by the Daily Star, we have calculated how much each of the above teams are worth.
United's likely XI costs £1.35m a week, with an average wage of just over £122k.
Meanwhile, the average Liverpool wage in that starting lineup is slightly more than £85k.
According to Star Sport, Sadio Mane is Liverpool's highest earner on £125k.
Seven United players are paid more than Mane, including three who probably won't start at Anfield.
Bastian Schweinsteiger and Henrikh Mkhitaryan are both said to be on a seven-day rate of £200k, while out-of-favour captain Wayne Rooney is United's second-highest earner – behind Paul Pogba – on £260k.
English football's colour of money is very much red based on these #LFC and #MUFC weekly wages! ?? #LIVMUN pic.twitter.com/pyXH9d34wz

— CaughtOffside (@caughtoffside) October 14, 2016
Pogba's £275k wages look frankly ridiculous when compared to Adam Lallana's.
Record-breaking United summer signing Pogba is paid more than four times more than £65k-a-week Lallana.
However, Lallana has scored three goals and provided three assists in seven Premier League games this season, compared to Pogba's one goal and zero assists in six starts.