Anthony Martial is beefin' with The Mirror.
The Manchester United striker took to Twitter on Sunday night to accuse the newspaper of printing lies.
Martial posted a photo of Pinocchio – the world's most famous wooden porky-teller – to hit out The Mirror in a rather amusing way.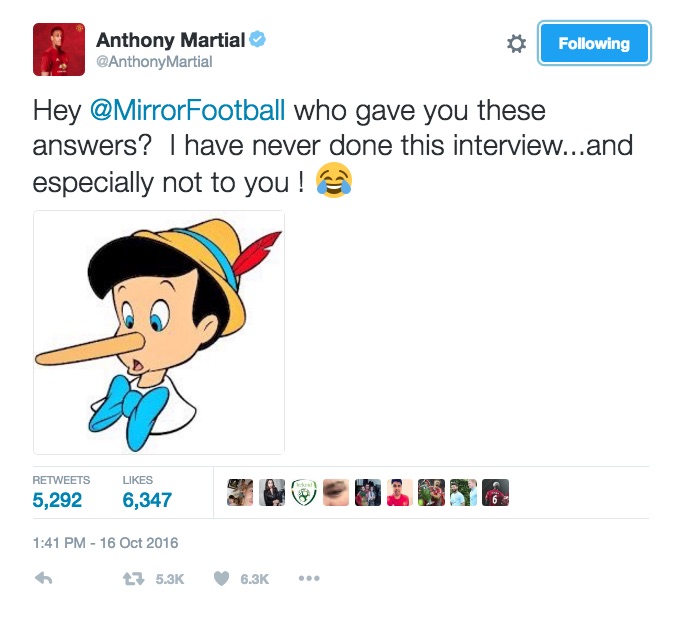 It is not yet clear which particular article Martial is referring to.
However, the last thing The Mirror posted about the 20-year-old France international was titled "Anthony Martial insists Manchester United fans haven't seen him at his best yet".
In this article, Martial is quoted as saying: "It's a big season for me and I want to be better than last year.
"I don't think you have seen the true Martial at Man United yet. I know I can perform better, I know I can do more. But I'm convinced this season can be my year. It's a feeling I have."
On the subject of his lack of game time as a central striker, he apparently added: "I am a professional footballer and it's a game where the coach decides where you can be most beneficial for the team.
"As long as I am attacking, I am happy! I know what Jose Mourinho decides will be best for me, personally, and for the team.
"I have many aspects of my game I need to improve and that's what I am focusing on. I prefer not to say what they are in public – for me, it's a secret and I just want to work hard.
"When I look back, I think I could have done more last season, but I have to be positive. I didn't think I'd play so quickly and get a regular place at my age.
"It is not easy to arrive in a different country and adapt quickly, but I think I'm getting there and I'm proud of that. But I want to be even better this season."
We stress, we do not know yet whether this is indeed the article that annoyed Martial.
There is nothing in these quotes that he should necessarily be embarrassed about.
However, if The Mirror – or whichever publication they have lifted from – have indeed made up their offending "answers", Martial has every right to be p*ssed off.
Meanwhile, Mirror bigwigs will likely just be flattered that Martial is reading their stories!
Martial is expected to start on Monday night when United visit fierce rivals Liverpool in the Premier League.
SEE MORE: Liverpool v Man Utd predicted XIs: Jose's lineup £413k more expensive in wages, even with three £200k+ stars in reserve
Martial scored twice in four games against Liverpool last season, including his first ever goal for United in a 3-1 win at Old Trafford in September.