Man United head to Stamford Bridge to take on Chelsea on Sunday, but their record against their rivals over the last 14 years makes for terrible reading.
Jose Mourinho's return to his former club is undoubtedly the headline that many will lead with, but ultimately it's a significant game for both clubs as they will be desperate to win.
History isn't on United's side though as they have badly struggled in this fixture since 2002, as shown in the graphic below courtesy of Sky Sports.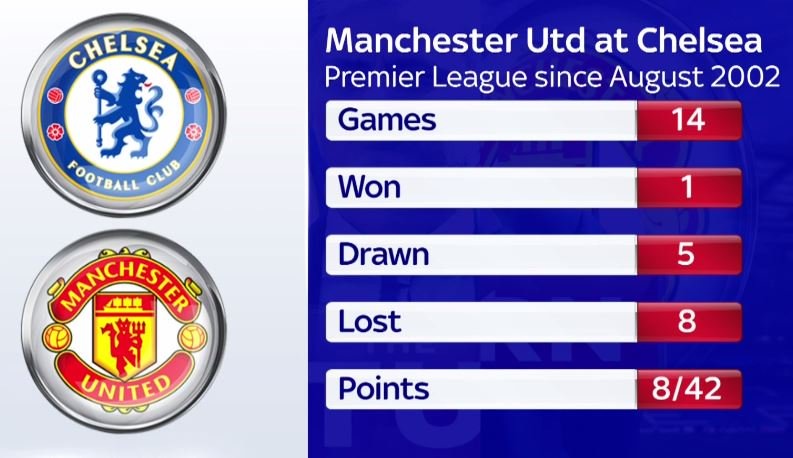 The Red Devils have lost eight of their previous 14  games in west London since August 2002, picking up just one win and five draws as they look to improve on that dismal record this weekend.
That's eight points out of a possible 42 for United, and ultimately that isn't good enough as they need to pick up points against their direct rivals.
Sky Sports pundit Jamie Redknapp is desperate to see the visitors go for it and not produce a repeat performance of the goalless draw with Liverpool on Monday night, as he believes that there is enough talent and pride within the club to do more than just sit back and be happy with a point.
"I've heard people say that Manchester United's draw with Liverpool was a masterclass from Jose Mourinho, but with all the ability in that team, I'm uncomfortable seeing them go to Anfield and playing to stifle their opponents," he told Sky Sports.
"They won at Liverpool last season, so why couldn't they do it this year? I don't want to see another game like that on Sunday. I'd like to see United have a go at Chelsea. I'd like to see them open up and hit them on the counter-attack as they have done in big games in previous years."
There is an argument that that could ultimately play into Chelsea's hands, and given what history tells us, Mourinho's priority is to prevent the other team from playing and then looks to attack their vulnerabilities.
Engaging in an open game with end-to-end chances at Stamford Bridge could be a recipe for disaster for United, and so despite Redknapp's wishes, it would come as no surprise if Mourinho adopts a similar approach for this encounter.