Eric Bristow has just made a late bid to be crowned Knobhead of the Year by firing out a series of deplorable Tweets on the subject of sexual abuse in sport.
His outrageous rant – which can be seen below – came hours after BBC Sport reported that the FA was investigating allegations of sexual abuse in football.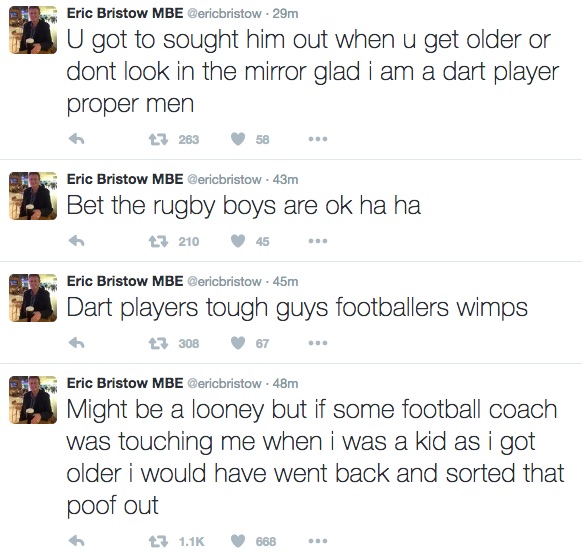 SEE ALSO: Former Liverpool midfielder admits regular cocaine abuse as coping mechanism for childhood sexual abuse
Bristow begins his rant by telling his 93,000 followers what he would have done had he been 'touched' by his coach.
The 59-year-old seems to claim that he would have taken the vigilante route.
He chooses to describe his hypothetical attacker as a "poof", rather than a paedophile or something similar, hereby adding a tablespoon of homophobia into the mix.
Bristow's next two Tweets are equally offensive. His words brand footballers as "wimps" and appear to intimate that, had they been 'tougher' – like darts throwers or rugby players – such abuse could have been avoided.
Tweet no.4 then reiterates Bristow's opening point, while emphasising how darts is played by "proper men", presumably excluding poofs and the wimps they touch.
After a 40-minute break from Twitter, Bristow returned in bullish mood to champion himself for telling "the truth", unlike everybody else who works in TV.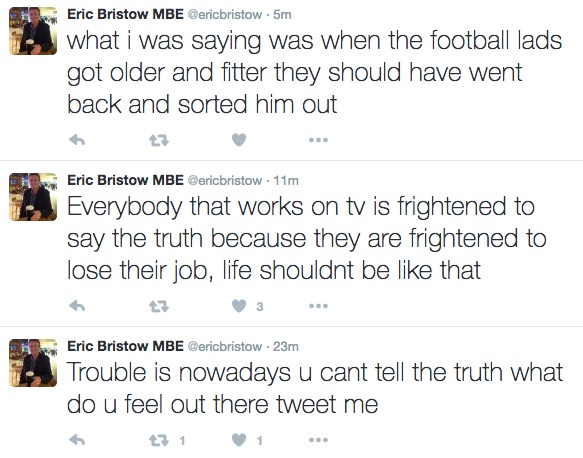 It remains to be seen how Eric's truth-binge will be received by his employers at Sky Sports.
Will the broadcasting giant be too frightened to allow him to analyse proper men throwing arrows in the PDC World Championship this Christmas?