Liverpool forward Roberto Firmino reportedly has an anti-Arsenal €98m release clause inserted into his contract at Anfield, as per Football Leaks.
The controversial website has published confidential information regarding high-profile contracts for some time now, and the latest release has focused on a number of Premier League stars.
As seen in the tweet below from Belgian journalist Kristof Terreur, there is a snapshot of the original print story from Belgian publication Le Soir which goes into detail about Firmino's contract.
#footballeaks in @Lesoir:
? Firmino has a €98m clause that can't be triggered by #AFC
? Atlético get 250k every time Agüero scores 15 goals. pic.twitter.com/nUbKOICUt9

— Kristof Terreur ? (@HLNinEngeland) December 5, 2016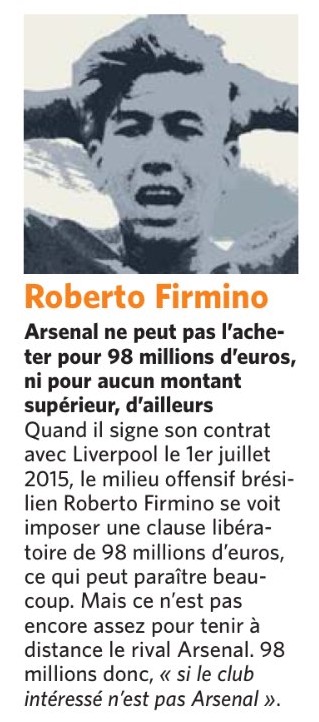 It's claimed that the Brazilian international has a €98m release clause in his Liverpool deal, but it's specifically added that "Arsenal can't buy Firmino for €98m or any other higher amount".
Perhaps Arsenal's pursuit of Luis Suarez in 2013, as reported by The Guardian, is still playing on Liverpool's mind and in turn they have insisted on the clause to avoid a similar situation from arising with the Gunners.
That is ultimately the only likely explanation for the clause as Liverpool still evidently hold a grudge after the saga and are keen not to even entertain talks or speculation of any of their players moving to north London.
Nevertheless, it's still a very strange move from the club and unsurprisingly it led to many finding it hilarious on social media with the best of the responses below:
Arsenal have been banned from signing Firmino ??? Liverpool inventing clauses

— Daniel Hobson (@ArsenalHobbo) December 6, 2016
Liverpool have banned Firmino from signing for Arsenal lmfao what an insecure tinpot club. Basically admitting Arsenal are a bigger club. L.

— #Griezmann2018 (@Pogbesque) December 6, 2016
Liverpool can relax. If Wenger had £80m+ to spend on one player, Firmino certainly wouldn't make the list ???

— Walid Arsenal (@1Walid1) December 6, 2016
Liverpool inserted an "Anti-Arsenal" clause on Firmino's contract, meaning Arsenal cannot buy him, for any amount. Lol what r they smoking?

— Sbongakonke Shobede (@sboshobs) December 6, 2016
LFC still salty after the Suarez incident. Firmino for £82 million would be like paying £30 mill for Fellaini, oh wait.

— $????? (@sandxmidt) December 6, 2016
I'm offended that Liverpool think we'd ever want Firmino

— Alexis loves me (@Wooflexis) December 6, 2016