The January transfer window opens its revolving door in little over a fortnight and the rumour mill is already rotating at a rapid pace.
In this sea of reports and claims, Sky Sports generally reign supreme and are regarded as one of the most reliable sources out there.
However, this year, in a rather funky move, Sky are properly flirting with saucy speculation and have teamed up with FootballWhispers.com to rate the likelihood of each proposed transfer actually happening. Let's indulge, shall we?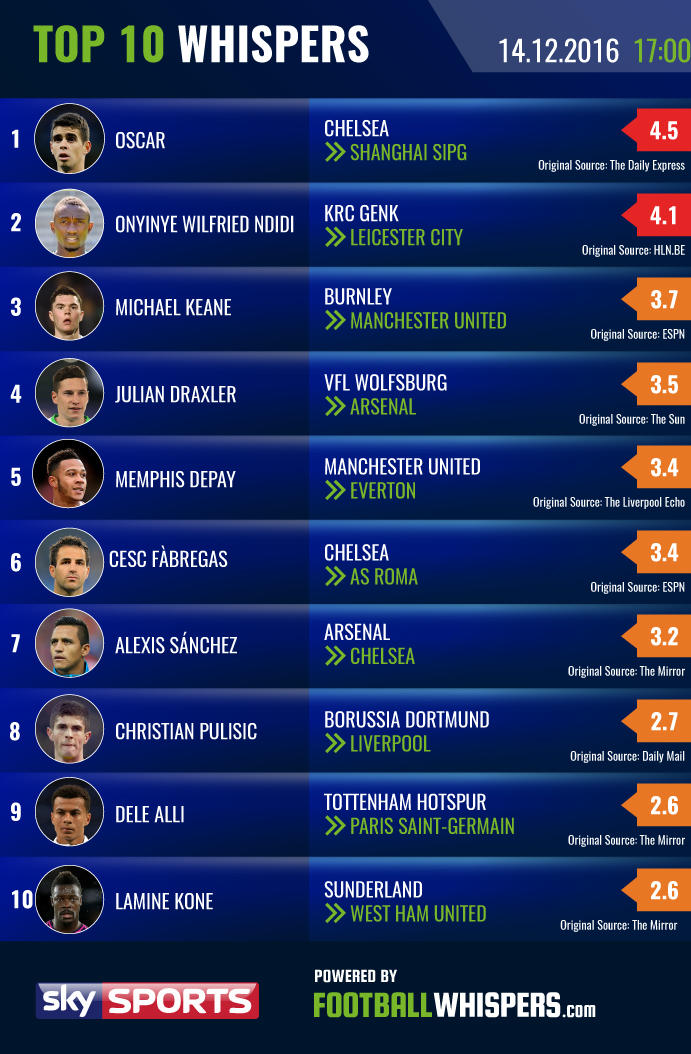 SEE ALSO: (Photos) Meet the hot PDC darts dancers adding a touch of glamour to the World Championship at Ally Pally this year
So, according to this evening's data, Oscar is 4.5/5 likely to leave Chelsea for Shanghai SIPG. That does sound pretty accurate, considering the player himself has told SporTV that the move is "90% certain" to go through.
Meanwhile, Onyinye Wilfred Ndidi's mooted switch from Genk to Leicester City also seems on the cards, with the story – originally penned by The Express – given an 82% chance of being non-fiction.
The rest of the top 10 are in the orange zone, but according to simple mathematics, all are rated higher than 50-50, including The Mirror's tale about Chelsea swooping for Arsenal's Alexis Sanchez (64%) and The Sun's report that the Gunners could tempt Julian Draxler to North London (70%).
Manchester United also look set for a busy winter, with a 68% probability of Memphis Depay jumping ship to Everton, while Michael Keane returning to Old Trafford from Burnley is rated as a 74% shot.