Jose Mourinho is not happy with the Premier League over their fixture scheduling over the Christmas period. It's been a good few days now since the Manchester United manager found something to moan about, so this latest rant came in due time.
The Mirror quote Mourinho accusing the Premier League of favouritism over the difficulty of each club's respective fixture list. This is likely to land him in more hot water: "The busy period is for some clubs, not for everyone. If you analyse clubs, the fixtures are chosen to give rest for some and to create problems to others."
He is presumably talking about former side Chelsea, who undoubtedly have been handed the most favourable fixture list over the festive period. This graphic provided by 101greatgoals depicts just how kind the Premier League have been to the league leaders.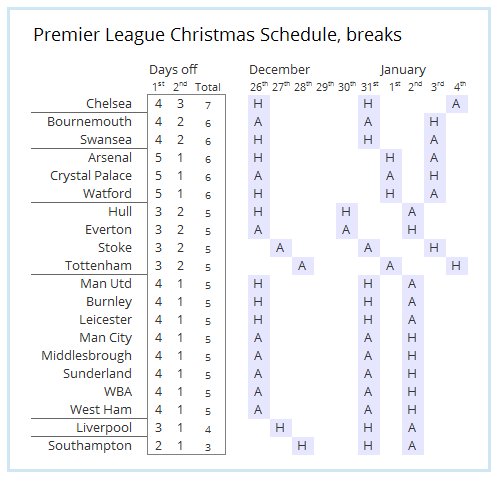 While Chelsea have seven days off between Boxing Day and January fourth, Mourinho's United have just five. Southampton have been dealt the worst hand, as they have just three days off over Christmas.
Does Mourinho have a point? Is it favouritism, or is this just the way the cookie has crumbled? Either way, it seems very unfair for one side to have four more days of recovery than a fellow competitor.