Zlatan Ibrahimovic has dared to Zlatan.
That's his words, not ours.
The Manchester United striker, who does things his own way, uploaded a video of himself making a snow angel practically naked on Christmas morning.
?This is 100% real! Zlatan Ibrahimovic, almost naked, making a Christmas snow angel???
?Full vid on Instagram at @iamzlatanibrahimovic#MUFC pic.twitter.com/nXVu7EAsBH

— CaughtOffside (@caughtoffside) December 25, 2016
READ MORE:
Man United in transfer talks to sign world star, €71.37m+ deal scheduled for 2017
Arsenal keep tabs on 46-goal, 11-assist Euro duo in case Mesut Ozil or Alexis Sanchez jump ship
West Ham, WBA enquire about Mamadou Sakho, Liverpool want £2.18m package
This video earned Zlatan's Instagram account likes, likes, likes, as well as a few thousand bemused comments.
But at what cost?
Surely an athlete earning £250,000 a week (wages reported by the Daily Star) should be a little more careful with his body?
If he comes down with the sniffles (if not pneumonia or frostbite) and is subsequently unavailable for any of his side's festive fixtures, United fans might be slightly less amused by the 35-year-old's Xmas antics.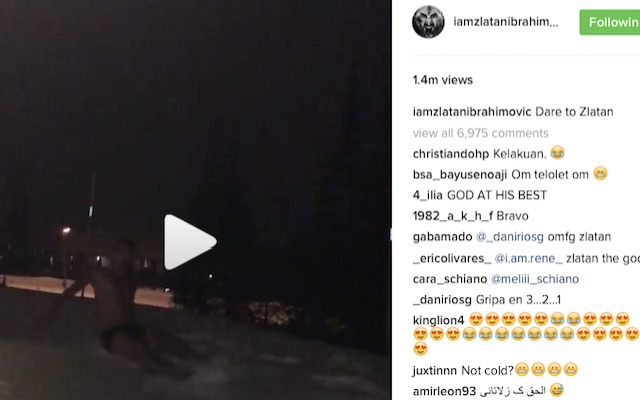 SEE ALSO:
(Image) Luke Shaw kisses Man United team-mate's fiancee in carpark
Katie Price describes hard sex with Liverpool legend whose f***ing technique sounds just like his famous set-pieces
Mark Halsey hand job: Former Premier League referee received impromptu sex gift while moonlighting as taxi driver