If Mike Dean made a New Year's resolution it probably wasn't to keep a lower profile on the pitch.
Mike Dean: Let's let them play their football this game

Inner Mike Dean: New year, same me pic.twitter.com/VqO5q3URqR

— Pie Sports Booze ? (@piesportsbooze) January 2, 2017
Just 15 minutes into his first fixture in 2017, the 48-year-old Man in Black went to his beloved pocket and whipped out his trusty red card, for this challenge by Sofiane Feghouli on Phil Jones.
The Sofiane Feghouli red card after a challenge on Phil Jones. Harsh from Mike Dean. [via @UllalIBT] #MUFC pic.twitter.com/rwTl7ERqDD

— RedMancunian (@RedMancunian) January 2, 2017
Even RedMancunian, which I'm sure you can guess are big Man United fans, thought Dean had got it wrong.
And that opinion was shared by many of the 38,400 people (and rising) who namedchecked Mike Dean on Twitter, making him a worldwide trend.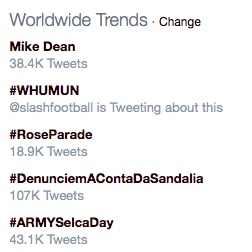 Mike Dean is finished! So so so bad! He gets worse and worse every week. Take the whistle from him please!

— John Arne Riise (@JARiiseOfficial) January 2, 2017
That joke of a decision by Mike Dean wouldn't have ruined this game had West Ham been able to use video to appeal. Why are we waiting?

— Adrian Clarke (@adrianjclarke) January 2, 2017
Mike Dean sends off Feghouli and Barkley stays on the pitch…. pic.twitter.com/NGUyiwSn8h

— ? (@Groojic) January 2, 2017
Referee's need to be punished in some way for these dumb decisons. Mike Dean thinks he's something else

— Danny (@R9Rai) January 2, 2017
Manchester United have made a £40 million bid to buy Mike Dean from Tottenham Hotspur pic.twitter.com/HWXzWGK9hf

— Futbol Agent (@Futbol_Agent_) January 2, 2017
Mike Dean leaving the London Stadium….. pic.twitter.com/tG2joygn4E

— HammerandTalk (@hammerandtalk) January 2, 2017