BBC Sport pundit Garth Crooks is back at it on Monday as he has selected his Premier League team of the week, and it hasn't gone down particularly well.
Starting with the players that he has selected though, there can be few arguments for the most part with Tottenham Hotspur impressing across the board in their 4-0 win over West Bromwich Albion.
Further, with Andy Carroll scoring a sublime goal and leading West Ham United's charge over Crystal Palace to Everton starlet Tom Davies scoring his first ever Premier League goal in the rout of Manchester City, there appears to be some sentimental choices too.
Marcos Alonso's double for Chelsea at Leicester City sees him included, while Marko Arnautovic also gets the nod after he was instrumental for Stoke City this past weekend.
It's unclear as to what Simon Mignolet and Dejan Lovren did that was particularly special to warrant places in the line-up, and so those are really the only questionable inclusions.
However, what has angered certain supporters is those who haven't made it. Arsenal fans were quick to point out that Alex Iwobi wasn't selected despite his star performance at Swansea City, while the West Ham faithful will be left baffled that Michail Antonio hasn't forced his way in.
Crooks' decision to include four Tottenham players also gained him some criticism, especially at the expense of those mentioned above.
All in all then, it's another week where the BBC pundit has courted controversy with his picks, but then again, it probably doesn't really bother him.
When it comes to the team of the week, it's all about opinions and while his may seem questionable at times, almost all of those to make the cut have done something over the weekend to warrant a place in his line-up.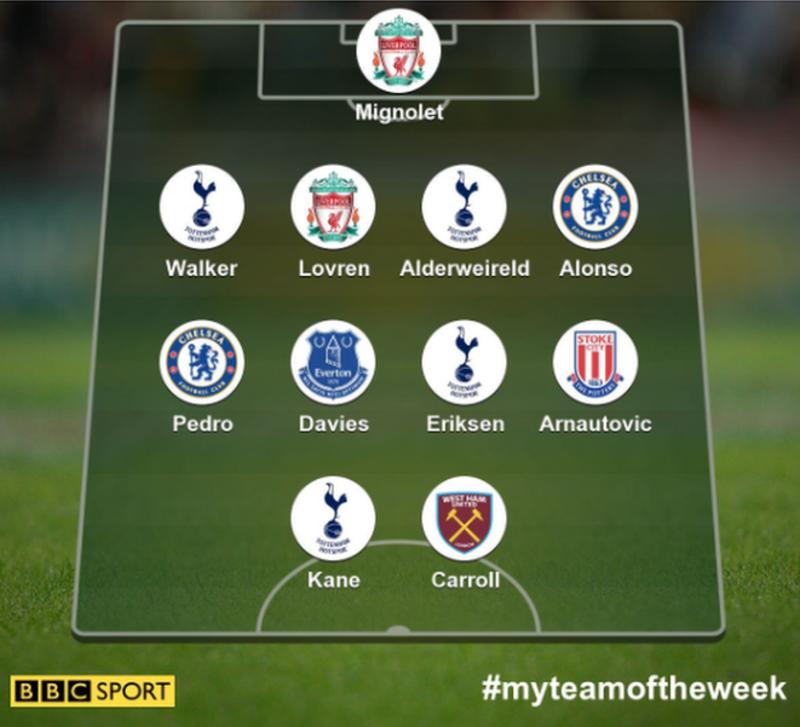 @BBCSport He always starts with 11 Spuds players and works from there.

— Michael Greaney (@greaney_michael) January 15, 2017
@BBCSport Mignolet made 2 saves, he faced 3 shots on target. Team of the week for sure ?

— OlivierGirude (@OlivierGirude) January 15, 2017
@BBCSport not one Arsenal player in there especially @alexiwobi what a joke of a creation that totw is?

— YoGii (@Daithi0B9) January 15, 2017
@BBCSport Antonio gets 3 assists and not in. The man is clueless.

— Max Kellar (@maxkellar) January 16, 2017