The list of addicts among elite sportsmen is not lacking names. Flirtations with drugs, alcohol, junk food, or even video games sometimes result quite unexpectedly for stars of big sport – quite a few of them have ended up with addictions.
Today some great people like Diego Maradona or Keith Gillespie are known as vivid exemplars of the simple fact: fame can't shield a person from any form of addiction. Read on to find out some intriguing facts about renowned football players.
Diego Armando Maradona – Cocaine
The former Argentine striker is considered one of the best football players in the history of football, yet his star life was polluted by drugs. Maradona was addicted to some illegal substances and his career was seriously harmed by the use of cocaine.
A great share of years of his career was a constant fight against his addiction until in 2000 Fidel Castro invited him to Havana for rehabilitation. This helped Maradona to overcome his addiction and start his career anew as a coach.
Hugo Sotil – Alcohol
Sotil played in one of the best Barcelona teams together with Cruyff, Asensi and Rexach. He helped Barça to win the ticket to the League in the season 1973-1974 after 14 years without winning and also participated in the historic 5-0 defeat of Real Madrid at the Bernabéu. Sotil scored the fifth goal.
Nevertheless, his affection for drinking was the reason the Dutchman Neeskens took his place at Barça. Sotil returned to Peru to play with Alianza Lima and won titles in 1997 and 1998. However, his alcoholism inflicted its curse and his football skill level fell tremendously.
Keith Gillespie – Betting
Northern Irish winger Keith Gillespie had serious itching for placing bets. He was declared legally bankrupt in 2010, after losing an estimated £7m fortune in the name of gambling.
His started betting as an apprentice at Manchester United, but his best footballing years came with Newcastle United and Blackburn Rovers.
Gillespie even bet on his own games and once lost out on £40k when a teammate scored a late goal to ruin his correct score bet.
Cesc Fábregas – Video Games
Chelsea star Fabregas is addicted to video games. The former Arsenal captain still cannot part with his inner child and thinks that gaming is good for clearing the mind and having fun.
The Spanish midfielder is a huge fan of EA Sports, particular FIFA, and games like Call of Duty.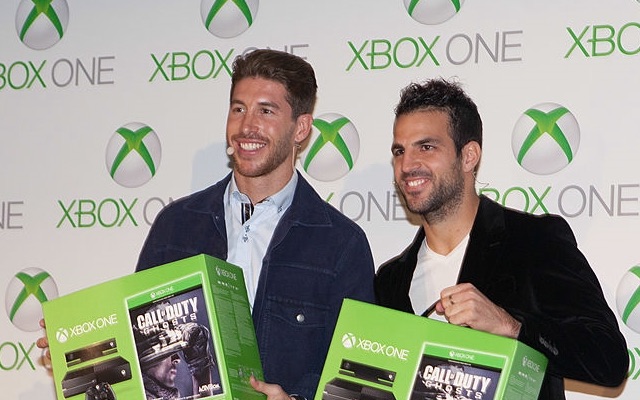 Neymar – Junk Food
The Brazil and FC Barcelona striker has always been an excellent footballer, although he is less credible when it comes to the discipline of exercising and eating.
Neymar was hooked on junk food for a long time, but the national captain has since been weaned off the burgers and committed to a more professional diet.
Marvin Sordell – Social Networks
Quite a few huge personalities in the world of sport and entertainment are active on social networks, but no one has ever reached the level of Marvin Sordell. Few know him as a player as he has made his way mostly through modest teams; however, on social networks, his fame has grown rather drastically due to his sleepless activity on social media