Wayne Rooney's penis is at the centre of a argument between ex-prostitute Jenny Thompson and Geordie Shore's Zahida Allen.
Thompson – a former £1,200-a-night escort who was one of two vice girls to 'romp' with Rooney while his wife was pregnant in 2010, according to The Sun – appeared alongside Allen in series six of reality MTV show Ex on the Beach recently.
The pair are now rowing over allegations made by Allen – seen above grasping a snake (not of the trouser variety) – that Thompson divulged details about her sexual encounters with Rooney, with particular emphasis placed on the Manchester United and England captain's penis.
SEE MORE:
Jenny Thompson Image Gallery: Prostitute Who Serviced Wayne Rooney & Mario Balotelli In All Her Glory
'Mario Balotelli Far Better In Bed Than Wayne Rooney' Claims Prostitute Jenny Thompson
Jenny Thompson sounded like a Smurf in Wayne Rooney threesome, says Helen Wood, who did NOT get a "good seeing to"
Thompson strongly denies suggestions that she told Allen about Roo's rod.
"I never mentioned Rooney's todger," Thompson told The Sun. "One of the reasons I signed up for Ex On The Beach was to change people's perceptions of me.
"I never spoke about him or my previous work and I want to clear this up."
Twenty-two-year-old Allen is quoted by the same newspaper as saying: "Jenny did talk to us about Rooney and what they got up to and his tool.
"We had some interesting chats to say the least."
Thompson (pictured below) is adamant this never happened and the 27-year-old mum reckons Allen is going to look daft when the chat she claims took place fails to find its way onto the television.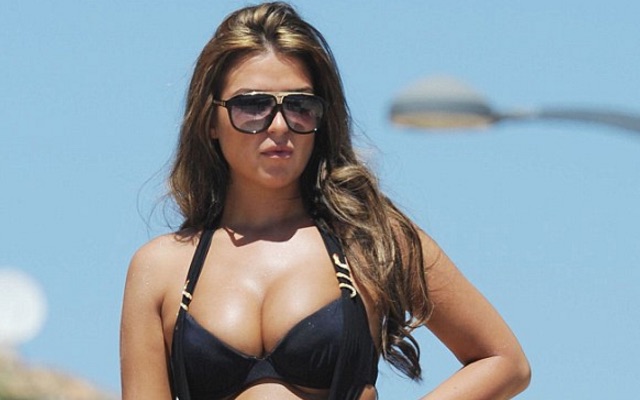 "I am 100% positive that MTV know I didn't do that," added Thompson.
"It's even more embarrassing for her as it's not even going to be aired.
"When everyone tunes in and watches it they will see I didn't say it and it will make her look more silly."
SEE ALSO:
(Image) Luke Shaw kisses Man United team-mate's fiancee in carpark
Katie Price describes hard sex with Liverpool legend whose f***ing technique sounds just like his famous set-pieces
Mark Halsey hand job: Former Premier League referee received impromptu sex gift while moonlighting as taxi driver