When Pep Guardiola announced that he would finally be arriving in the Premier League, irrelevant whether you were a Manchester City supporter or not, it was impossible to not feel excited. This is after all the man who has revolutionised football.
The impact he has had on the footballing world has been profound, and in the countries he has managed it has been golden.
It is no coincidence that Guardiola's great Barcelona side and the rise of Tikki Takka football coincided with a trophy-laden eight years for the Spanish national team. Many of the players from that phenomenal Spanish side also played for Barcelona, names such as Xavi, Pique, Puyol, Villa and of course Iniesta.
Moreover his time with Bayern Munich crossed over with Germany's first World Cup victory in 24 years. Once again players such as Schweinsteiger, Muller, Boateng, Lahm and Neuer, who were all crucial in that victory, also played at club level for Mr Guardiola. More impressively Germany adopted a possession-based Pep-inspired brand of football as they conquered the world.
For those that argue Guardiola failed at Bayern as he couldn't land the Champions League, it is important to remember the best side often doesn't win Europe's biggest prize. Clear underdogs have triumphed here on numerous occasions, see Porto 2004, Liverpool 2005, Inter Milan 2008 and Chelsea 2012. It is even possible to argue AC Milan were lucky to beat Liverpool in 2007. As for the Bundesliga, Guardiola's Bavarian machine set a record points tally.
So surely every England fan can begin to dream.
Here is a manager that is about more than just a brilliant winning record, he is also about transforming a nation's footballing ideals. It was reasonable to assume that Pep would arrive on these shores to do exactly the same, sweeping aside all before him.
We know now that it won't be quite as simple this time. This is, after all, the Premier League. The home of frenetic pace, where anyone can beat anyone and where nobody has proved any modicum of talent unless they have done it on a cold night in Stoke.
It is clear even the master of beautiful football will need time to adjust. Teams will not lie down against Manchester City as Sporting Gijon may have done to Barcelona. But most importantly this City side is just quite simply not as good as either Barcelona or Bayern Munich.
At the start of the season Guardiola appeared to be rewriting the footballing handbook in England by deploying full backs like Sagna and Kolarov in midfield. This tactic worked at Bayern Munich where he had talents of players such as Alaba and Lahm to call upon, players with fantastic technical ability comfortable on the ball almost anywhere on the pitch. Unfortunately, Sagna and Kolarov are not of that ilk. It is unlikely they could have played in such a manner at their peak, let alone in the twilight of their careers.
Ultimately it is the quality in areas such as this that is holding Guardiola back. He is, by his own admission, a staunch ideologist and will not change. His persistence with Claudio Bravo is evidence enough of this. There is only one style of football in the world of Guardiola, and his unwillingness to adapt to the capabilities of his players is currently costing him and Manchester City.
But none of this is surprising.
What's most eye-opening is that Guardiola is not the antithesis of Mourinho. During those heated El Classico clashes we were always led to believe it was Guardiola the gentleman against Mourinho the pantomime villain. A story easily spun given Mourinho received a touchline ban for eye-gouging Guardiola's then assistant, the late Tito Villanova. The consensus has always been that Jose's war of attrition broke Guardiola and resulted in him needing a sabbatical to recharge.
However, Pep's first six months in England seem to suggest he is not that different from the evil Jose Mourinho.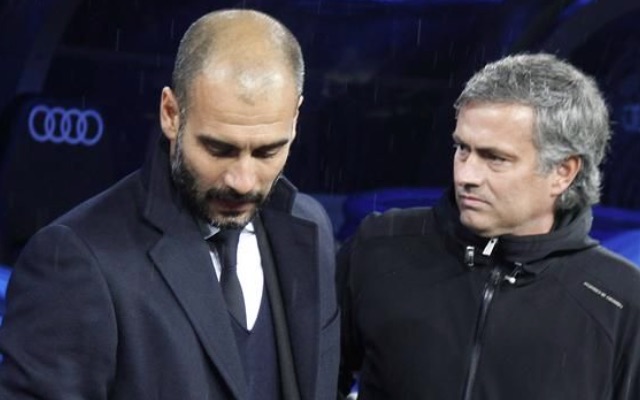 Of course their ideologies are differing. Pep prioritises beauty and style whereas Mourinho is the ultimate pragmatist. It is the way they work within these self-constructed frameworks where the similarities begin to show.
When a Mourinho or Guardiola team flies all the talk is focused on the collective. As we saw last season at Chelsea when a Jose team capitulates it does so in dramatic fashion. The narrative of the collective is replaced with rifts, divides and sometimes rather public collapses in the relationship between manager and player.
Pep's difficult first season has been littered with conflict. He began by ousting Joe Hart for Bravo and banishing Yaya Toure to the reserves, although the latter has now worked his way back into the squad. Even Sergio Aguero, formerly untouchable at the Etihad, now seems to be under threat amid numerous rumours of disharmony between the Argentinean and Guardiola. Not to mention there is also the currently very spiky relationship he has with the English press.
Pep the gentleman has left a trail of destruction thus far that would make the agent of conflict that is Mourinho very proud indeed.
Guardiola struggling with this Man City squad is not particularly surprising. This is Guardiola's first truly difficult season, in terms of results, in his managerial career and it is when things are not going your way that you truly learn who someone is. Thus far it would appear that Guardiola and Mourinho are far more alike than we could have ever imagined.
As Dr Evil said to Austin Powers 'We are not so different you and I'.