Johan Djourou left Arsenal in 2014 but 11 years on the books made him a proud Gunner and he clearly still cares about the club.
Earlier this month, Djourou took to Instagram to support Swiss teammate Granit Xhaka after the midfielder's red card in Arsenal's 2-1 win over Burnley.
Instagram user Omarkharobi1 commented on an official Gunners post: "@johan_djourou please tell Granit to leave Arsenal."
Djourou replied: "Why should I do that? He got a red card again yea ok! We won at the end that's most important!
"And let me tell you, Granit gives everything for the Arsenal shirt! And that's his style of play so don't be too hard on him! He plays with passion. He will learn!!"
Djourou commented on another Arsenal post last night.
This time, he again played to role of defiant Arsenal cheerleader, urging Gooners to stick with the team, despite Watford's shock 2-1 win at the Emirates.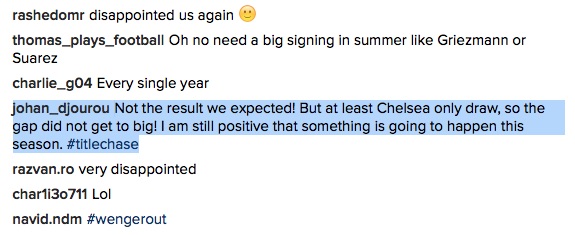 Not everyone agreed with Djourou's positive message.
Angry Gooner 'cwoolls55' replied: "Time to quit being delusional @johan_djourou. Unless u are referring to winning the fa cup!"
Meanwhile, many Arsenal fans opted simply to comment with multiple poo emojis.
Arsenal are nine points behind Chelsea ahead of their head to head at the weekend.
The Gunners are currently third in the table, level on points with North London rivals Tottenham Hotspur, who have a superior goal difference.