Garth Crooks has selected his Premier League team of the week for BBC Sport, and as always, he's sparked some responses from supporters.
Unsurprisingly, he's gone with several Chelsea players after their win over Arsenal, with Thibaut Courtois, Marcos Alonso and N'Golo Kante all getting the nod.
While there's no debate over Kante who was exceptional against the Gunners, it's somewhat baffling that he's gone for two other Chelsea players with neither of them named Eden Hazard.
Alonso also got on the scoresheet while Courtois made a couple of decent saves, but still, it seems slightly strange from Crooks on this one.
Elsewhere, Michail Antonio is deployed at right-back in his system even though he played in a much more advanced role this weekend, and he's joined by Andrea Ranocchia and Lamine Kone of Hull City and Sunderland respectively after both defenders impressed, particularly the former who made his debut for the Tigers and helped them to a big win over Liverpool.
Henrikh Mkhitaryan is now starting to look every bit the player that many expected him to be when Manchester United signed him, and he's joined by teammate Juan Mata who completed the comfortable win over Leicester City on Sunday.
However, it hasn't gone down too well as Crooks admits in his post that the Spaniard should probably have been sent off for a wild challenge, and yet he still makes it in.
As noted above, there is no space for Hazard in his frontline, so it's down to Jermain Defoe, Romelu Lukaku and Gabriel Jesus who were all on the scoresheet in wins for their respective sides.
Jesus is undoubtedly worthy of inclusion as after his stellar performance in midweek against West Ham United, he followed it up with a brace against Swansea City to score his first home goals for his new club and seal all three points as Pep Guardiola's side look to have a new dynamic and energy with their new recruit in and Sergio Aguero on the bench.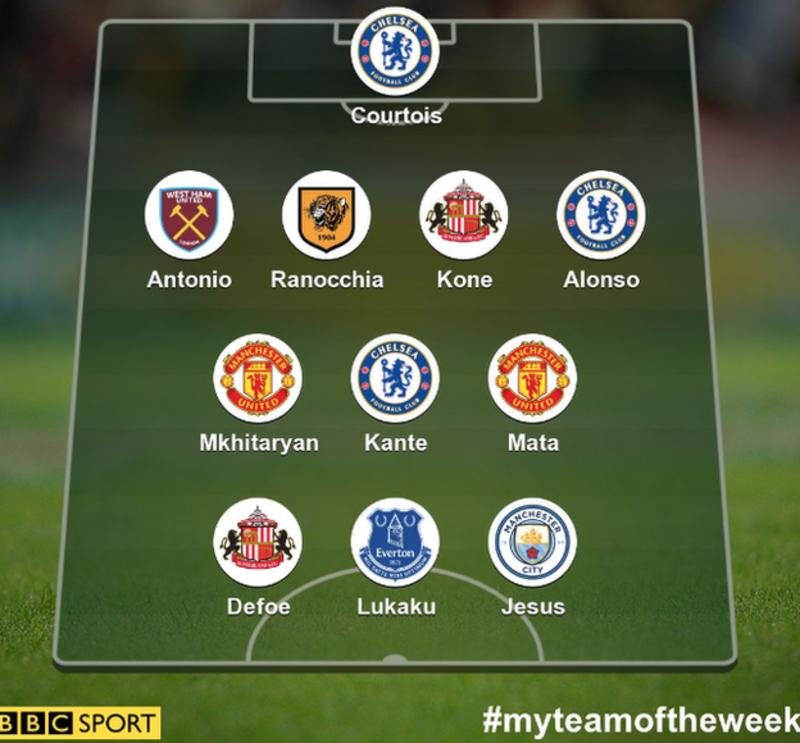 Not everyone was happy though, as the tweets below prove…
@BBCSport so admits mata should have been sent off but gets in, alongside a striker at right back. More alt-facts than trump and spicer

— Steve M (@SteveM70) February 6, 2017
@BBCSport
No @Obiang14 you fool. Goal, assist & run the game.
Antonio played up front & you've got him right back.

— Kris Johnson (@kjohno10) February 6, 2017
@BBCSport antonio was playing as a striker…

— Matthew Lacey (@MttLacey) February 5, 2017
@BBCSport how is Hazard not mentioned in this? ??

— Tje (@TeeJayEeee) February 5, 2017
@BBCSport seriously no obiang

— john reeves (@johnee47) February 5, 2017
@BBCSport Barkley best player on the pitch yesterday and not in the team. Oh BBC why do you give this clown work?

— 1878 mate (@ToffeeCardinal) February 5, 2017