Sweary ArsenalFanTV regular DT has vowed to launch a relentless Wenger Out banner campaign after watching his beloved Gunners lose 5-1 to Bayern Munich.
DT piled into Arsene Wenger with a series of angry tweets following Wednesday night's Champions League first leg.
He called Wenger a "tactical dinasuar" and then suggested that he would be flying anti-Arsene posters until the old man had "gone".
DT apathetically acknowledged his spelling mistake, before continuing his ****-filled rant, describing the situation at Arsenal as a "shambles".
Check out DT's Twitter rant below, but we warn you that there is plenty of effing and jeffing.
SEE ALSO:
Arsenal get hilarious meme treatment as Bayern Munich kill their UCL dreams… Again
Psychic Arsenal fans mystically scapegoated Coquelin before he messed up for Robben goal vs Bayern
(Photo) Arsenal players behave disgracefully after Bayern hammering, apart from one good Gunner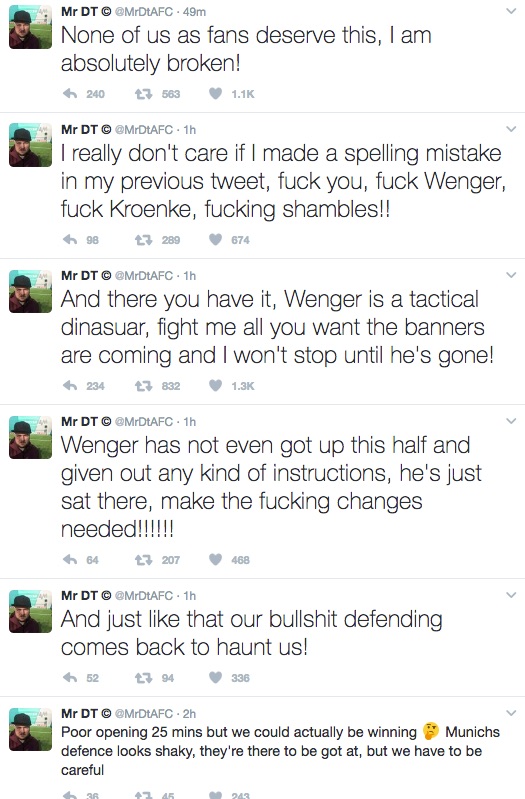 Wenger Out banners are nothing new.
They were in the news earlier this month after one was spotted live on Sky Sports during Arsenal's 3-1 defeat to Chelsea.
Sky commentator Gary Neville called the fan holding the banner an "idiot" and later went on ArsenalFanTV to explain his comment to a panel of Gooners, including DT.
It's time! @GNev2 interview with @Arsenal_Trooper @ArsenalMoh8 @mrdt2016 and @goonerclaude pic.twitter.com/AfU8bKnEMh

— ArsenalFanTV (@ArsenalFanTV) February 13, 2017