The necessary remaining €320m to complete the takeover of AC Milan has reportedly been raised as the two parties are on track to hand over on March 3.
According to La Gazzetta dello Sport, as published on the front page of Saturday's edition seen below, the investors have raised the outstanding €320m in Hong Kong ahead of completing their purchase on March 3.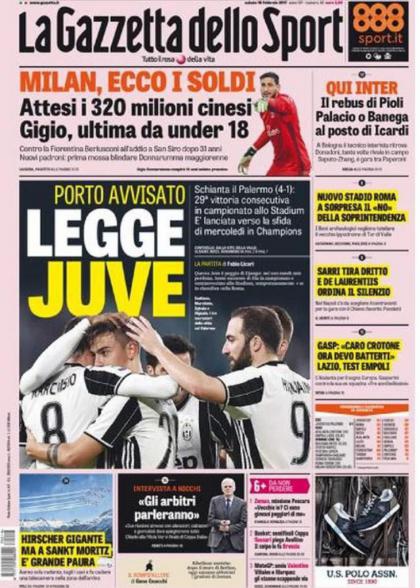 Further, the report goes on to add that Silvio Berlusconi will sell 99.9 percent of the shares in the club to the Sino-Europe Sports group and will hand over full control next month, finally ending the saga that has been the takeover of the Rossoneri.
It will be a relief that the deal is now reaching its conclusion, with Milan to benefit significantly from the injection of investment from the new ownership.
Further, it's claimed that the first bit of business that will be carried out is securing the future of goalkeeper Gianluigi Donnarumma by offering him a long-term contract as he prepares to turn 18 next week.
The teenage shot-stopper has emerged as one of Milan's top performers over the last 18 months, and is seen as an integral figure in their future as they look to get back to competing for trophies both domestically and in Europe.
In turn, it will come as a major relief to supporters to see him offered new terms to commit his future, with new signings and investment elsewhere in the club likely to swiftly follow in the summer to push the Rossoneri on and allow them to fight for silverware.
Vincenzo Montella has done an excellent job thus far with the resources at his disposal, but he'll be hoping to guide the club back into Europe this season with reinforcements likely to be on the way.
Follow Sumeet on Twitter @SP_Calcio for all the latest Milan news and transfer talk.