Burton Albion defender Shaun Barker claims return after four-year injury battle is "greatest moment" of his career.
In March 2012 Shaun Barker was captaining his Derby County side against fierce rivals Nottingham Forest, but, after a near post collision with goalkeeper Frankie Fielding, Barker's career almost ended for good.
Suffering from a ruptured anterior cruciate ligament, posterior cruciate ligament, medial collateral ligament, lateral collateral ligament, patella tendon and a chondral defect (a dent in the bone) chances were very slim that Barker would be able to walk properly again, let alone play football.
However, this did not stop Barker, who four years later, aged 34, plays under former Derby manager Nigel Clough at Burton Albion.
"I saw it as a challenge," Barker said at the University of Derby. "In a strange way I enjoyed it. It wasn't about proving people wrong and I didn't care what level I played at, I just wanted to play football again.
"I had to work unbelievably hard and stay positive. It was a long journey but I got through it."
Barker made close to 100 appearances for Derby before his injury, yet he says: "Getting back on the pitch was the greatest moment of my career."
His story has caught the attention of many people, not only in the world of football, and it has even been adapted into a film.
Barker explained: "I was approached by a local film maker two years into my journey. It was originally going to be a 10-minute documentary but it turned into a two-hour film."
That film is called 'Shaun Barker: 1,065 Days' and is the baby of East Midlands director Ashley Carter.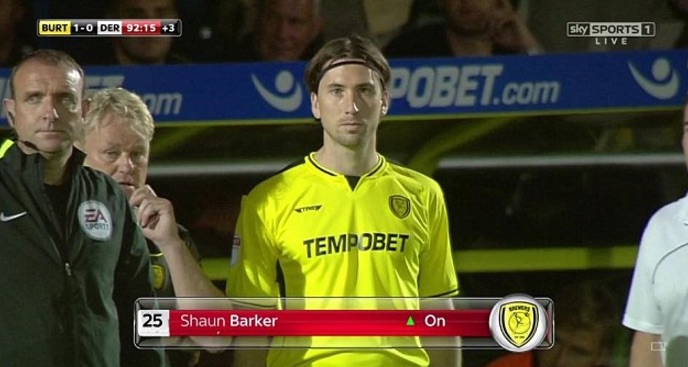 Manager Clough plays a big role in Barker's story of recovery.
"I do not know [other] managers that care that much," Barker added.
"He bought me here to a job, I have a big character and I can help the team."
Burton currently sit eighteenth in the Championship following Saturday's 1-0 win against Nottingham Forest, which boosted their hopes of staying in the Championship, where they are currently enjoying their first season.
Barker has featured five times for Burton so far this term, featuring in three wins, one of which came against former club Derby at home.