Jose Mourinho was dubbed the Special One when he first came to England.
It was a title he initially gave himself in a press conference, but it stuck as fans and journalists took a shine to him, both as a manager and a character.
In the years since, Mourinho has devolved into a charmless man, with the English public now weary of his constant whinging and lack of fun, as well as his team's dull style of play.
Last night exemplified everything that we dislike about modern Mourinho.
Hosting a bang-average Rostov side in the Europa League, Jose set up his Manchester United side to grind out a place in the quarter-finals, rather than blow away their inferior Russian opponents.
The highlight of a dull 1-0 (2-1 agg) win for the Red Devils came in the second half when Mourinho peeled a banana, passed it to Ashley Young, who – seemingly delighted just to be involved – delivered it to defender Marcos Rojo.
Mourinho handing a Banana to Young to give to Rojo. Truly Incredible ? pic.twitter.com/PyteIMU4Sm

— Futbol Agent (@Futbol_Agent_) March 16, 2017
I'm not a doctor, but I assumed this was because Rojo was hungry, or at least low on energy.
Nevertheless, Mourinho felt it necessary to lecture the British public on the seriousness of Rojo eating a banana when speaking to BT Sport after the match.
He said: "I was tired many times. I know about the body needing anything, and the player asked for a banana. The banana situation isn't funny at all, we have to respect a player's physical situation.
"It's bad for us as all of the teams above us don't have international football. They don't know what fatigue is. We fight until the limits and that's what we have to do."
Get over yourself, mate.
Glenn Hoddle questions banana stunt
Mourinho put on his most serious face as he discussed the issue in his post-game TV interview.
The BT Sport reporter tried to make light of the situation and perhaps even get Jose to crack a smile, but Mourinho responded by delivering a stern lecture on the importance of bananas in sport.
However, former England manager Glenn Hoddle isn't convinced that Mourinho's decision to whip out fruit at Old Trafford was motivated by his desire to energise Rojo.
Pundit Hoddle suspects it was a diversionary tactic, with Mourinho distracting fans and the media away from how poorly his team had played.
It is also thought that Mourinho may have been using the banana as a visible emblem for the tiredness of his players – to emphasise previous points about congested fixture lists.
"If a manager goes out of his way to put excuses there, you're giving the players an excuse," Hoddle said on ITV, as quoted by the Daily Star.
"If they play poorly, they come back with all the excuses. He can't have it both ways.
"For me, that interview could have been done before the game. He knew what he was doing with the banana. He knew that it was helping make his point.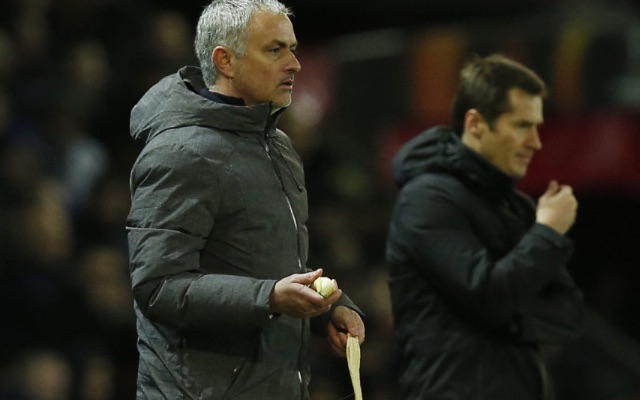 "We're talking about bananas, we're talking about schedules instead of actually how poor they were on the day.
"They got through, they won the game and that's the main thing for Man United. They're in the quarter-finals.
"Why not come out and just say we were poor today? "It's a good sign if you're poor and you win the game."