By Kevin Peacock
Diego Costa has reportedly indicated life in London is difficult for him as he misses the sunshine.
As a result, according to The Express, he may leave Chelsea FC at the end of the season. Ok mate, see ya. Football clubs are not trains, they don't need passengers.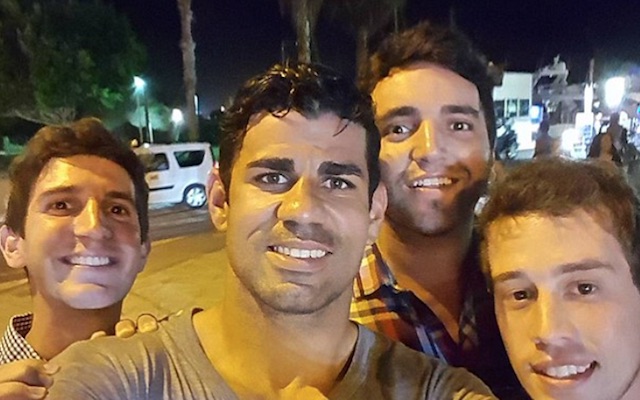 Costa has played some terrific games for Chelsea in his fairly short time at the club, but he's had some stinkers too.
In his 109 games for Chelsea he's scored 55 goals, been booked 32 times and sent off once. He also has an uncanny knack of antagonising opposition players and fans. This sometimes works out for him, more often though it inspires the opposing side, hindering his own.
Historically, and I know 'Chelsea don't have a history', but, even so, historically Chelsea have never really been big in the centre forward department.
In my lifetime, and 45 years of supporting, four come to mind. Peter Osgood, hero of the Bridge from the Sixties through to the mid-Seventies. Still revered on the terraces today in fact. Bobby Tambling, who played alongside Osgood in the same period, in a team that should have achieved so much more. Kerry Dixon, who scored 193 goals through the Eighties and into the Nineties at a time when the team were really struggling. Of course more recently, Didier Drogba who was a shining light in front of a goal, after his first 'dodgy' season. He scored in every final he played in for the Blues.
In between, there have been an abundance of bit-part players, journeymen at best. Some… stand up Andriy and Fernando, have cost a fortune and should have produced more, but, they've still scored important goals. Some, take your pick, didn't cost a fortune but likewise tucked away crucial goals. All were supported through thick and thin by the Blues fans, as will Costa until the day he leaves the club.
Let's not forget the all-time top scorer at the club is, newly retired, box-to-box midfield ace Frank Lampard.
Chelsea have never been reliant on a prolific striker for their goals. Never consistently having that 30-goals-a-season man. They have been more blessed with creative players in the side. Players like Alan Hudson, Pat Nevin, Gianfranco Zola, Arjen Robben, and more latterly Eden Hazard creating chances across the whole team.
Whether Diego stays or goes is irrelevant, someone will replace him. If Chelsea FC were to be a train, whoever jumps on board will be more than welcome. I just ask that they are prepared to drive it, serve the drinks in the buffet car, blow the whistle and….cue the Michael Caine voice…'shut the bloody doors!!'