Tottenham Hotspur have confirmed that they will play all of their home games at Wembley Stadium next season.
The official announcement was made on Friday afternoon, with Spurs also confirming that they will host a farewell party at White Hart Lane on May 14, the day of their final fixture at the old ground, against Manchester United in the Premier League.
Club chairman Daniel Levy told TottenhamHotspur.com: "This marks a momentous day in our club's history as it is the day we formally agreed the demolition of our beloved White Hart Lane.
"The Lane means a huge amount to each and every one of us and we needed to gain greater certainty on the delivery of the new stadium before we made the final decision to commence with the decommissioning of our iconic, historic home for some 118 years.
"We shall ensure that we give the Lane a fitting farewell when we play our last match here on May 14.
"Wembley will be our home for a season and then we shall return to what will be one of the best stadiums of its kind and the most unique in the world playing host to NFL games too – a stadium that will be key to our future growth and success.
"Both on and off the pitch this is an incredibly exciting time in the history of our club."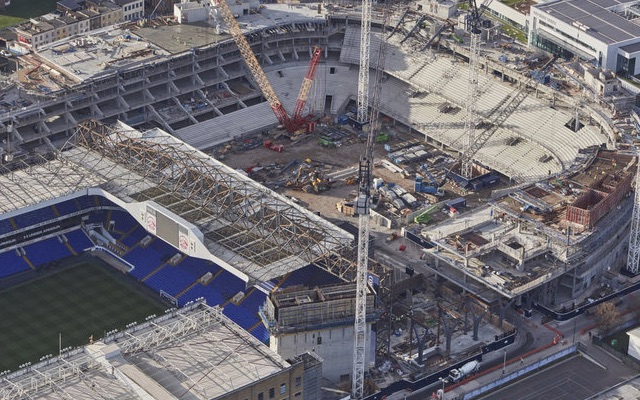 Spurs have been in unbeatable form at White Hart Lane this season, literally, so it will be hard for them to say goodbye.
White Hart Lane this season – P21 W 19 D2 L0
Won 1-0 against Crystal Palace
Drew 1-1 with Liverpool
Won 1-0 against Sunderland
Won 5-0 against Gillingham
Won 2-0 against Man City
Drew 1-1 with Leicester
Won 3-2 against West Ham
Won 5-0 against Swansea
Won 3-0 against Hull
Won 2-1 against Burnley
Won 2-0 against Chelsea
Won 2-0 against Aston Villa
Won 4-0 against West Brom
Won 4-3 against Wycombe
Won 1-0 against Middlesbrough
Won 4-0 against Stoke
Won 3-2 against Everton
Won 6-0 against Millwall
Won 2-1 against Southampton
Won 4-0 against Watford
Won 4-0 against Bournemouth
Nineteen victories in 21 games have given Spurs a 2016-17 win percentage of 90.5% at White Hart Lane, compared to just 25% at Wembley, where they have played four European matches this season.
Tottenham's all-time win percentage at the modern Wembley is even worse, just 9.1%.
All-time record at New Wembley (not including extra-time and pens) – P11 W1 D5 L5
Drew 1-1 with Barcelona in 2009 Wembley Cup
Lost 2-0 to Celtic in 2009 Wembley Cup
Drew 1-1 with Chelsea in 2008 League Cup final (won AET)
Drew 0-0 with Man Utd in 2009 League Cup final (lost on pens)
Drew 0-0 with Portsmouth in 2010 FA Cup semi (lost AET)
Lost 5-1 to Chelsea in 2012 FA Cup semi
Lost 2-0 to Chelsea in 2015 League Cup final
Lost 2-1 to Monaco in 2016/17 Champions League
Lost 1-0 to Bayer Leverkusen in 2016/17 Champions League
Won 3-1 against CSKA Moscow in 2016/17 Champions League
Drew 2-2 with Gent in 2016/17 Europa League