By Kevin Peacock – Chelsea blogger and founder of chelseafcwebnews.com
Chelsea's current on-field captain Gary Cahill has been on the wrong end of some hefty criticism at times this season, particularly at the beginning.
Coming into the season off the back of a collectively poor team performance for England at the Euro's, Cahill started the campaign, understandably, low on confidence and probably disheartened from all the negative attention.
In those first few games under Antonio Conte, Cahill failed to shine. To be fair to him Chelsea didn't start the season particularly well, scraping wins by the odd goal and enduring defeats against Arsenal and Liverpool. Once Conte started playing with 3 at the back, when 3-0 down in that Arsenal game, Cahill regained some of his lost mojo.
As the season draws to a close I think our Gazza is due some credit. With John Terry being restricted to just 6 league appearances all season, someone had to fill a very big pair of boots. Prodigal son David Luiz had returned to Stamford Bridge to partner Cahill before the season opener against West Ham. On paper, not a match made in heaven.
However, with the highly-underrated Cesar Azpilicueta alongside them and the tireless running of wing-backs Victor Moses and Marcos Alonso, Conte hit the jackpot. The five of them gelled. The 6 games after that horrific first half against the 'Arse' saw Chelsea score 17 goals whilst conceding none and go on a run of 13 straight wins.
Cahill has also scored crucial goals, including away at Stoke City, turning 1 point into 3 with a winner in the 87th minute.
Against Southampton more recently he restored Chelsea's lead on the stroke of half time, shifting the momentum in that game back in his team's favour.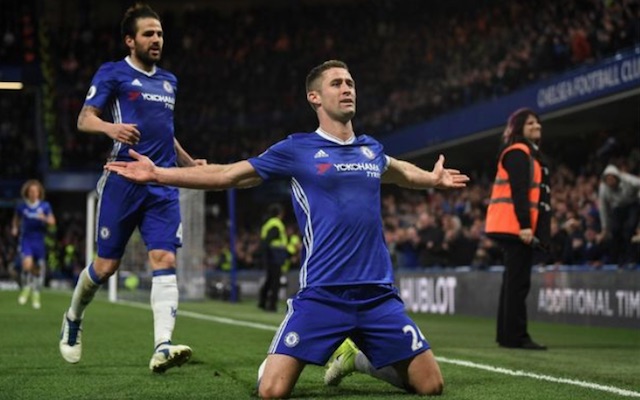 Signed from Bolton in January 2012 for just 7 million pounds, a quarter of the price Luiz, and it's clear Cahill was more than worth the fee. His commitment to the cause and value to the team cannot be questioned. Although they often are. In just over 5 years, his career at Chelsea has seen him win every domestic and European trophy on offer.
His stats this term add up as well, the clubs leading scorer of headed goals, 2nd only to Azpilicueta in terms of starts and minutes played. He's won more aerial battles than anyone else in the team. Looking at goals scored, he sits at he's alongside Raheem Stirling at 36th in the league and above other more notable names. I rest my case.
In summing up, "Mr Gary Cahill, you are charged with making some careless mistakes that have caused your football team, to concede some goals this season………… You perverted the course of the ball into your own goal against Manchester City………… However, having considered your previous good record of no red cards, no suspensions and just 5 yellow cards all season I find you………………Not Guilty."