Sadly, the Premier League season is almost over. Not only is that sad as the football will stop, but it also means the end of Garth Crooks getting panned on Sunday evenings for a few months.
The BBC pundit got it pretty bad this week after deciding to go with four Chelsea players at the back including goalkeeper Thibaut Courtois after their narrow win at West Bromwich Albion secured the title.
Cesar Azpilicueta, David Luiz and Victor Moses get the nod in the backline, but many were left baffled as to how they deserved it given the Baggies didn't really put them under that much pressure and Luiz struggled with Salomon Rondon at times.
Regardless, they make the cut. Swansea City full-back Kyle Naughton completes the defence after he played his part in helping the Swans avoid the drop, while Victor Wanyama scored in the win over Manchester United in the last game at White Hart Lane and naturally that means he's in.
As is Ross Barkley after he helped Everton to victory on Friday night with a well-taken goal, while Liverpool magic man Philippe Coutinho definitely deserves a spot in the XI after his stand-out display against West Ham United as he bagged two goals for himself and produced a wonderful assist for the opener.
Meanwhile, Arsenal duo Mesut Ozil and Alexis Sanchez form two thirds of the front three as Manchester City starlet Gabriel Jesus joins them.
Again, Crooks took some slack for the Brazilian's inclusion as some didn't think he offered that much aside from his penalty, but Ozil and Sanchez seem like popular choices as they helped the Gunners to a comfortable win at Stoke City.
All-in-all, Crooks probably just expects and even welcomes the criticism now. There are some suspect decisions here, but nothing we're surprised by. Neither are many of those on Twitter either it seems…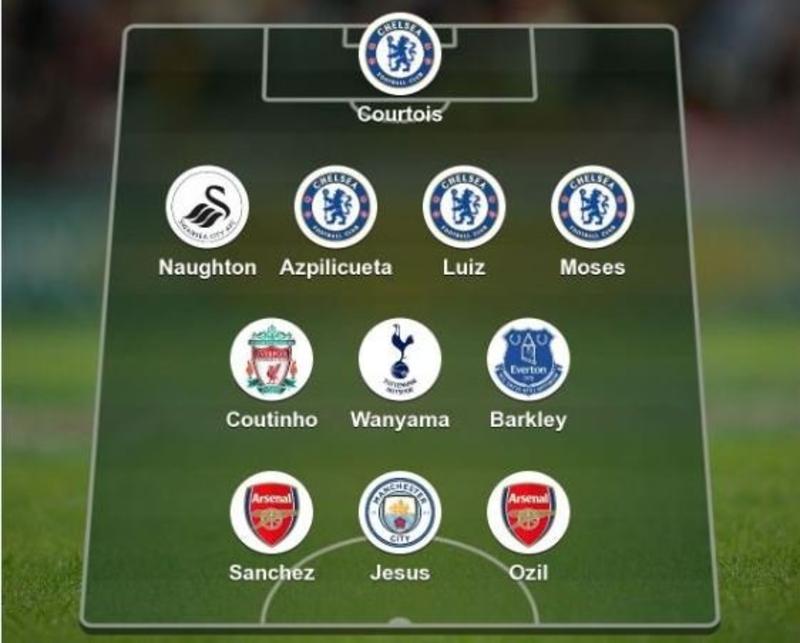 @BBCSport I don't understand how Garth Crooks has a job as a pundit still, awful, does he have something on the BBC bosses?!

— John Harmon (@harmonj8311) May 14, 2017
@BBCSport David Luis??? Couldn't cope with Rondon. He is an awful centre half. There were 3 better in the Albion side. #wba

— david n weighell (@DWeighell) May 14, 2017
@BBCSport 4 of the Chelsea back 5 for a clean sheet against West Brom. Unreal, even for Garth.

— Gareth McCarter (@g2mcc) May 14, 2017
@BBCSport Chelsea wasn't that good this week, they've gotten it on merit due to winning the league (congratulations). Crooks steals a living (??)

— Klopptimist (@LFCBottlers) May 15, 2017
@BBCSport How is Jesus in? Did nothing apart from the penalty

— Sam Bull (@sambull15) May 15, 2017
@BBCSport Let's take a guess- he's put in anyone who scored at the weekend regardless of their performance ?

— Dean Ridgwell (@Saviour1592) May 15, 2017