By Kevin Peacock – Chelsea blogger and founder of chelseafcwebnews.com
When I was a child, there wasn't much live football on television. No Sky, no BT… zip, nothing. It didn't matter though, because during my formative years in the 70's, I could actually go outside with my mates and play the game I loved. You know the score – 'jumpers for goalposts, isn't it?'
We didn't need a flat-screen TV to replicate the game and the only controllers I needed were my two left feet.
However, there was one day in the year when all that changed. As I look forward to Chelsea stuffing Arsenal in the FA Cup Final at the weekend, back in the day, it didn't matter who was playing.
FA Cup Final Day was always special. It was an event to be cherished. Today, I couldn't care less. If Chelsea are not in the final, I'm not interested. The Cup Final is lost in the saturation of satellite TV showing upwards of 10 live games on any given weekend.
There has been a lot of talk recently about how devalued the FA Cup has become. Teams and managers have been accused of not taking the competition seriously. It's obviously a fair comment and whilst we still hear about 'the magic of the FA Cup', it's not the same 'magic' I remember.
When the 'so-called' underdog won in my 'rose-tinted' era, it wasn't because Jurgen Klopp had decided he should rest nine of his normal, strongest starting 11 and rely on a side that had never shared a pitch before. It was because the underdog had the guts, determination and will to beat the superior side. Skill rarely came into it. Playing on mud covered pitches, giving 'the big boys' a portacabin to change in and no showers had much more to do with it.
It wasn't just on dodgy pitches that saw the underdogs come out on top though. Many a Wembley final ended with defeat for the 'bigger team'. Stand up Sunderland, Ipswich, Southampton Wimbledon and more recently Wigan. All victors against all odds.
Before I finish I want to share how I remember the TV coverage of Cup Final day, when I was a kid.
Back in the 70s there were only three TV channels in Britain. That's not a typo, three! Both BBC and ITV covered the game, so that's two thirds of the country's TV output showing the Cup Final. Sky currently show about 600 channels, imagine 400 of them showing the Cup Final.
Programmes would start about 11 am, 4 hours before kick-off. There would be cameras at the teams' hotels, there'd be live footage on the coaches taking the teams to the stadium. You'd see the players arrive at Wembley and inspect the pitch… in their white suits…Liverpool!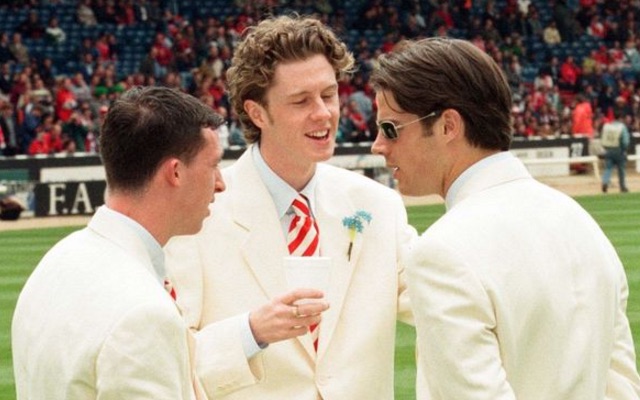 Top TV shows of the time like 'It's a knock-out (Jeux sans Frontiers to our European neighbours) and A Question of Sport would all feature with special Cup Final editions.
There would in-depth analysis of the Road to Wembley, the players and the managers. Football never received this much coverage. It was a Festival of Football in one day. It was magic!
I'd been supporting Chelsea for 22 years before they finally made it to a Cup Final (woe is me!) and what an anti-climax that was, losing 4-0 against Manchester United. More recently, my 22 barren years of support have been rewarded many times over. I have no doubt they will be again on Saturday evening.
Obviously, my only concern is that Chelsea don't fall victim to defeat at the hands of the dreaded underdog.