You can't win the Premier League in August, so the old saying goes, but you can certainly go a long way to losing it!
A solid start to the season can be vital for those teams with title aspirations, especially at a time when as many as six teams all have genuine hopes of finishing top.
The 2017-18 Premier League fixtures were released this morning and we have taken it upon ourselves to predict the results of all the early matches involving the Big Six.
Should our predictions, which you can check out below, come true, then the top of the Premier League table should look something like this come the end of August.
Man City – 3 wins, 0 draws, 0 defeats, eight goals scored, two conceded, 9 points, +6 GD
Man Utd – 3 wins, 0 draws, 0 defeats, six goals scored, one conceded, 9 points, +5 GD
Chelsea – 2 wins, 1 draw, 0 defeats, seven goals scored, two conceded, 7 points, +5 GD
Liverpool – 2 wins, 1 draw, 0 defeats, eight goals scored, four conceded, 7 points, +4 GD
Tottenham – 2 wins, 0 draws, 1 defeat, six goals scored, three conceded, 6 points, +3 GD
Arsenal – 1 wins, 0 draws, 2 defeats, four goals scored, five conceded, 3 points, -1 GD
Man City to top the three going into September? We reckon so, but what do you think? 
Predictions behind the predicted table…
Saturday, August 12
Arsenal 2-0 Leicester
Brighton 1-3 Man City
Chelsea 4-0 Burnley
Man United 2-1 West Ham
Newcastle 1-3 Spurs
Watford 2-2 Liverpool
All the top six will fancy their chances of winning on the opening day, with Spurs especially motivated after losing 5-1 at Newcastle in May 2016. Tottenham should be extra sharp with this in mind.
Liverpool are the top-six side who are most likely to drop opening-day points. The Reds have been thoroughly unconvincing in their last two trips to Watford, losing 3-0 at Vicarage Road in December 2015, before sneaking a scrappy 1-0 win their last month when they relied upon a freakish Emre Can wondergoal.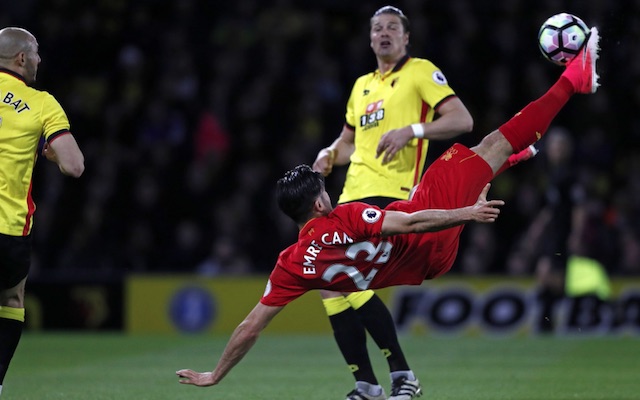 Saturday, August 19
Liverpool 3-1 Crystal Palace
Man City 2-1 Everton
Stoke 2-1 Arsenal
Swansea 0-2 Man United
Spurs 1-2 Chelsea
Arsenal hate Stoke away, so this could well be their first slip of the season.
Meanwhile, Spurs will have been hoping for an easy start at Wembley to help them settle in… They didn't get it! Chelsea love playing Tottenham at Wembley, having beating their rivals 4-2, 2-0 and 5-1 in their last three meetings at the national stadium.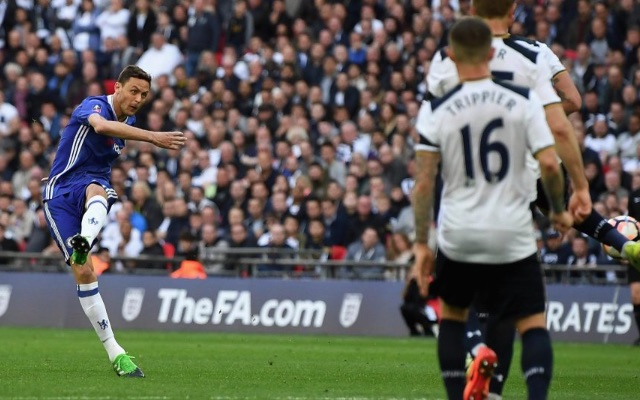 Saturday, August 26
Bournemouth 0-3 Man City
Chelsea 1-1 Everton
Liverpool 3-1 Arsenal
Man United 2-0 Leicester
Spurs 2-0 Burnley
Everton could well hold Chelsea, but Man City should claim another win, while Liverpool are at their most comfortable when playing bigger sides, especially Arsenal, having put seven goals past the Gunners last season.
Spurs will be very happy to welcome Burnley, who had the worst away record in last season's Prem.
SEE ALSO:
2017-18 Arsenal fixtures released by Premier League: Easy Emirates start but early away games very tough
Tottenham Hotspur 2017-18 fixtures: Chelsea first visitors to Wembley as Premier League robot shows no mercy
Chelsea fixture list 2017-18 sees Blues handed very tough August and September by Premier League
Liverpool FC 2017-18 Premier League fixtures see Reds handed nice start and finish
Man United fixtures 2017-18: Premier League hand Red Devils very winnable first seven, LFC provide 1st major test in October