Tottenham Hotspur have bought nobody so far this summer, but the rest of the Premier League has been spending money like it's going out of fashion.
Manchester City have been the biggest splashers of cash, while Arsenal, Liverpool and Chelsea have all broken their individual transfer records.
Sky Sports News compiled a Premier League XI made up of the most expensive pre-season signings ahead of the 2017-18 campaign on Monday.
However, that was before Nemanja Matic completed his move from Chelsea to Old Trafford.
SEE ALSO:
(Photo) Nemanja Matic signs Man United contract wearing new £38 training top
Nemanja Matic handed flops' squad number after signing for Man United from Chelsea
Flirty former Chelsea pair Nemanja Matic and Jose Mourinho exchange compliments after being reunited at Man United
Matic cost United £40m, as reported by Sky, meaning he replaces Liverpool record signing Mo Salah in midfield.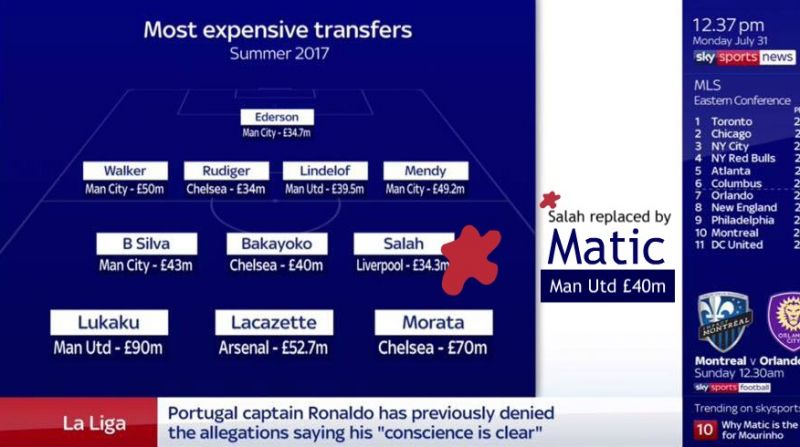 This team is worth £543.1m – more than £49m per player on average.
Despite spending big on Matic and shelling out £90m on former Everton goal-machine Romelu Lukaku, as well as £39.5m on ex-Benfica defender Victor Lindelof, United are NOT the biggest investors into this star-studding XI.
That honour goes to United's neighbours, Man City, who are responsible for £176.9m of that £543.1m, having recruited an expensive goalkeeper, two full-backs and a central midfielder.