Georges-Kévin NKoudou has had to delete this controversial tweet regarding Tottenham's tough Champions League draw yesterday.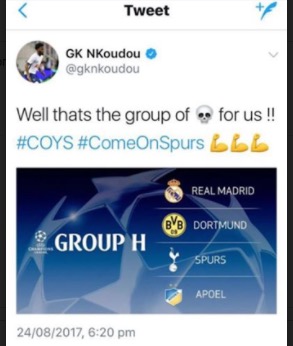 NKoudou insinuated that Spurs would face a group of death in the Champions League following yesterday's draw.
The north London club were drawn against holders Real Madrid and German heavyweights Borussia Dortmund which prompted the tweet. The tweet angered many Tottenham supporters and NKoudou subsequently had to pull the tweet down before he got himself into serious trouble.
With all due respect to the outraged Spurs supporters, we're struggling to find much to disagree with the French winger about regarding his tweet. Given that Liverpool also sat in pot 3 alongside Tottenham, it is a measurement of how unfortunate Spurs were in yesterday's draw that Liverpool found themselves in a group with Spartak Moscow, Sevilla and Slovenian side Maribor.
After quickly deleting his tweet the winger explained why he had to get rid of the controversy.
Gone because people dont understand it how I meant it ?

— GK NKoudou (@gknkoudou) August 24, 2017
While some felt the tweet was distasteful, many agreed with the winger that there was little wrong with the tweet.
lol don't worry george. It's all good in the hood. #COYS

— ? (@alfiebartram14) August 24, 2017
You were bang on with it, shouldve left it

— isaintjames (@isaintjames) August 24, 2017
Really dont worry most of us with a brain won't take offence have a great season

— terry bailey (@epochery) August 25, 2017
However, as mentioned above not everyone saw the funny side. Last week NKoudou caused outrage on Twitter after posting a picture of his new watch just hours after Spurs suffered defeat at the hands of Chelsea. Perhaps it would be best from here on in that the Frenchman is given a ban from his phone before he causes any further outrage. 
What a guy.
Just lose to Chelsea and gunman Nkoudou posting pictures of his new watch at 3 in the morning.

Killer pic.twitter.com/1EMg4AErv3

— ??? LUKE ??? (@LukeIeadbitter) August 21, 2017