Although they're widely regarded as two of the finest tacticians in football today, there's no denying that Pep Guardiola and Jose Mourinho like to spend.
Both have splashed out big sums of money for the best part of a decade now, whether it be spells in Spain at Barcelona and Real Madrid respectively, or at Bayern Munich or with Chelsea and Manchester United.
It's a common theme running through their managerial careers, and while of course they have qualities beyond just being 'chequebook managers' and out-spending their rivals to achieve success, it's surely more than a coincidence that they've had the financial flexibility to spend a lot and in turn bring in trophies.
Enter ESPN, who have conducted a brilliant study and analysed the spending of the managers currently in charge of the top six clubs in the Premier League.
It's worth noting firstly that it's a little misleading in that Antonio Conte spent time at Bari, Jurgen Klopp was at Borussia Dortmund and Mauricio Pochettino was at Southampton since the 2007/08 season and so budgets and spending power can't be compared over those respective periods.
Nevertheless, as the graphic below shows, Guardiola and Mourinho have still spent an incredible amount over the last nine years or so with the former splashing out £898.57m to assemble title-winning sides, while his Portuguese rival comes in just under at £870.89m.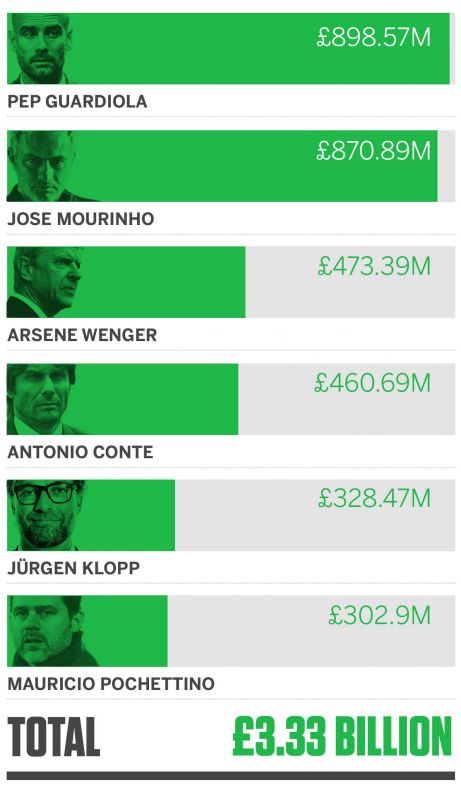 Compare that to Conte and Arsene Wenger spending around £450m in that same time period while Klopp and Pochettino come in at around £300m, it just goes to show that perhaps money does buy you success.
Again, as mentioned at the top of this post, Guardiola and Mourinho have done plenty in the game to deserve a level of respect from their rivals and supporters in general as it's a skill in itself to get the best out of these players and piece it all together and deliver results over a 38-game season.
However, it's a pretty handy luxury to have when you can splash out around £200m in one window to build a formidable squad, and it will likely be no coincidence that these two will be firmly in the Premier League title race come next May.