Arsenal playmaker Mesut Ozil has ripped into critical club legends and has urged them to get behind the team instead of blasting them all of the time.
The 28-year-old has been under fire in particular, as many have questioned his lack of influence on the side as well as his overall attitude and approach as he has been accused of being a liability at times with his lack of energy and defensive qualities.
It seems as though he has reached breaking point, as he has let out his frustration on former Arsenal players, who have been highly critical in their punditry roles.
Ozil may arguably live to regret this though as it's surely only going to be used against him, with the likes of Martin Keown, Thierry Henry and more having the opportunity to discuss it next weekend.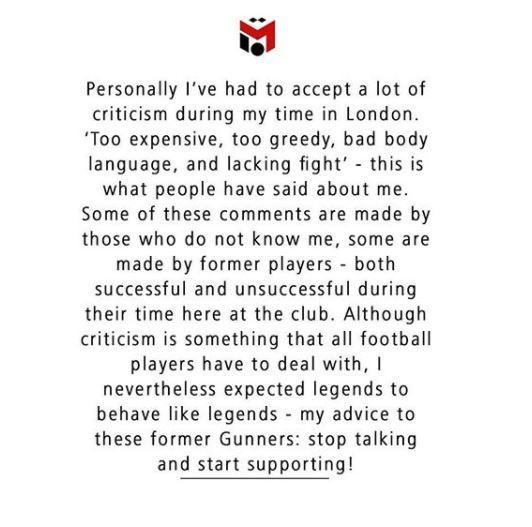 As reported by The Sun, the above was just a snippet of a 700-word rant as he discussed various topics as he celebrates four years at Arsenal following his move from Real Madrid.
Ozil may well have a point. However, the best way to silence the critics, whether they are pundits, supporters or otherwise, is with performances on the pitch and ultimately he hasn't been delivering to a high enough standard.
With less than 12 months remaining on his contract and the shambolic transfer window around him this past summer, there are serious problems at Arsenal. Instead of worrying about what's being said off the pitch, the German international needs to take a leading role for the Gunners in the weeks ahead and ensure that this season doesn't become a disaster.