It's Monday and that means BBC pundit Garth Crooks is back with his Premier League team of the week. His selections have caused a stir, as have some of his comments.
As noted in his BBC column, Crooks has gone with Chelsea goalkeeper Thibaut Courtois between the posts, with a back three of John Stones, James Tarkowski and Jamaal Lascelles.
Kevin De Bruyne and Benjamin Mendy rightly get the nod on the wings after both put in great performances in the rout of Liverpool, racking up the assists between them with excellent passing and deliveries into the box.
Christian Eriksen is also a worthy inclusion after running the show for Tottenham in their win over Everton, while the Dane is joined by Pascal Gross after his heroics for Brighton at the weekend.
Crooks has gone with an attacking trident this week, with Eric Maxim Choupo-Moting leading the line after he helped Stoke City secure a point against Manchester United with an impressive all-round display, while Harry Kane is back on the goal trail after his double at Everton.
Danny Welbeck completes the line-up after his brace for Arsenal in their win over Bournemouth, the second a delightful finish from the England international.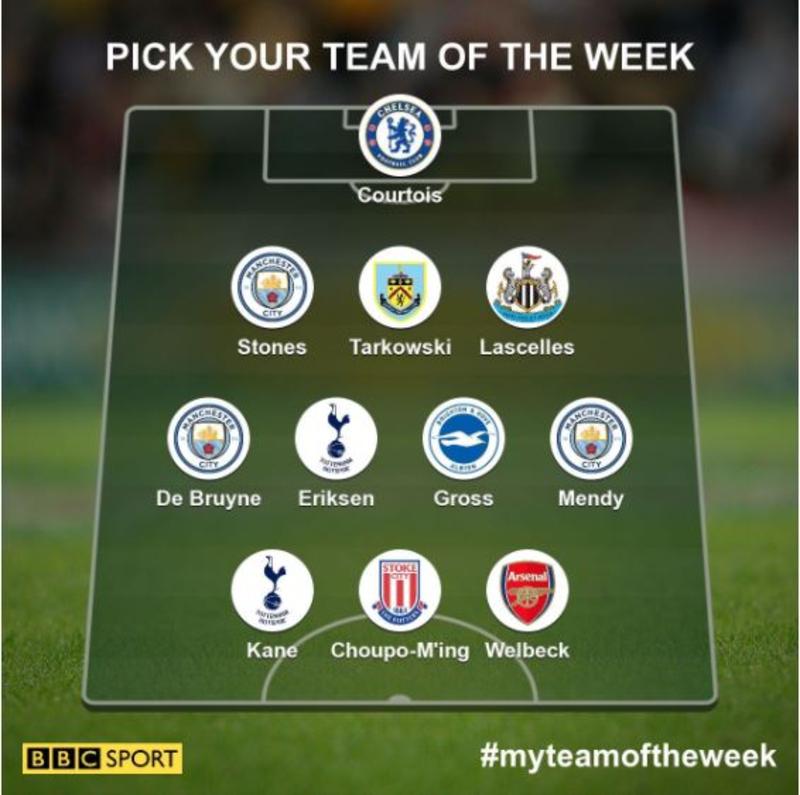 However, according to Crooks, even though summer signing Alexandre Lacazette showed his quality in front go goal again in the 3-0 victory, he doubts the Gunners have enough 'genuine finishers' in the team to make them title contenders.
"Arsenal might have brushed aside Bournemouth but until the Gunners have genuine finishers in the team they can forget about Premier League titles," he noted in his column. Cue an angry and puzzled reaction from supporters.
"but until the Gunners have genuine finishers in the team they can forget about Premier League titles." Alexis and Lacazette? Hmm.

— Etienne (@etienne_smith23) September 10, 2017
Lacazette has had 3 proper chances against Leicester, Stoke and Bournemouth and has finished all with aplomb. Genuine enough? Tchhhhh

— Mike (@LondonMike83) September 10, 2017
In addition, he also decided to have a go at Paul Pogba. Not for football related reasons, but for his new hairstyle, which involves a red streak running through it.
Some may argue he does have a point in truth as the Frenchman would be well advised to just focus on his football and drop how important his image seems to be. Come on though Garth, live a little.
"I also want to discuss Paul Pogba's new hairstyle, which features a red streak. I only mention it because he clearly wants to bring it to our attention. There is so much for the midfielder to do at United and he still insists on behaving like an adolescent.
"Granted, a hairstyle is not going to determine how well he can control a ball or make a pass, but it does say something about where his mind is at the moment. If you are going to attract attention to yourself on a football pitch do it with goals and performances, not cheap gimmicks and marketing tricks."
He's not impressed, and neither were his readers…
'He still insists on being a football pundit even though anyone under 30 has never heard of him'

— Sam Overton (@Pieterwolfe) September 10, 2017
Says more about Garth that he has written 3/5 paragraphs on a Stoke player about Pogba's hair.

— Sandy Alexander (@stepover7) September 10, 2017
Who gives a f*** what Garth Crooks thinks?

— Michael Gardner (@whosthedaddymg) September 10, 2017
What cares? How is that mug even still in the job?

— Lee Ryan (@LeeRyanLatest) September 10, 2017
he even says in the article that it isn't affecting his play style so why the need to have a shot at him? what a ridiculous comment to make

— brad (@brad4495) September 10, 2017